Fan-art picture shows Azerbaijan's name on anime character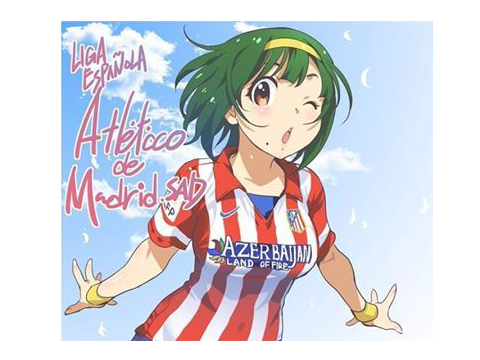 By Nigar Orujova
A fan-art picture of Kotori Otonashi, dressed in the uniform of "Atletico Madrid" with the inscription "Azerbaijan - Land of Fire" on it, has spread in the Internet.
Kotori Otonashi is one of the most beloved characters of the popular anime "The Idolmaster".
The picture, author of which is unknown, was made in honor of the victory of the club at the championship of Spain.
The fan art, placed in the Azerbaijani segment of Facebook, is gaining popularity. Football fans believe that Atletico will win the Champions League's final in this uniform.
The anime shows the arduous struggle of 13 girls from Talent Production 765 who dream of becoming idols in the competitive Japanese entertainment industry.
Atletico's players will face Real Madrid on May 24, and an expected global TV audience of 175 million will see "Azerbaijan Land of Fire" on their shirts in Lisbon.
Earlier, the team renewed its deal with Azerbaijan until 2015. It includes not only shirt sponsorship, but also a wider strategic agreement that saw the Atletico squad and coaching team traveling to the country last spring and a plan to train young Azerbaijani footballers in Madrid and Baku.