ADEX-2014 to attract people across globe: minister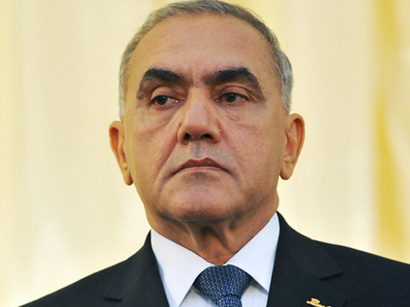 By Aynur Jafarova
The participants of the ADEX-2014 International Defense Industry Exhibition slated for September 11-13 in Baku will come from various countries across the globe.
These remarks were made by Azerbaijan's Defense Industry Minister Yaver Jamalov in his recent interview.
The minister noted up to date over 100 companies from 21 countries have expressed their readiness to take part at ADEX-2014.
"We have held talks with official representatives and heads of the companies during the 14th Defense Services Asia Exhibition and Conference (DSA-2014), which was held in Malaysian capital Kuala Lumpur on April 14-17. The companies from Turkey, Russia, US, France, Israel, Pakistan, Poland, Belarus, Korea and other countries will demonstrate their products at the ADEX-2014 exhibition," he stressed.
Today the Defense Industry Ministry produces over 900 items. Azerbaijan demonstrated 27 items at IDEF-2013 international exhibition held in Istanbul in May 2013, while this figure amounted to 132 at the exhibition held in Malaysia.
"The variety of our products increases from year to year. We will demonstrate new types of weapons and ammunition, various engineering machinery, intelligence and protective equipment and different aviation bombs at the ADEX-2014 exhibition in Azerbaijan," Jamalov said.

He added the Defense Industry Ministry conducts serious work on preparation for the exhibition.
"Today we possess 50, 100, 250 and 500-kilogram aviation bombs. Our specialists have manufactured and installed reactive volley system with a caliber of 107 mm on the Ford chassis. This devise with a shooting range of 11 kilometers will be demonstrated at ADEX for the first time," he said. "This year we will start mass production of drum grenade launcher with a caliber of 40 mm jointly with a Serbian company," he added.
Jamalov also said this year Azerbaijan plans to put 7-8 plants into operation that will produce various defense purpose products.
"The mass production of tank and artillery shells of various calibers from 85 mm to 155 mm will be accomplished in one of these plants," he said. "Also, the plant for mass production of ammunition for the RPG-7 grenade launchers will be put into operation this year. Some four types of ammunition made ​​for grenade launchers will be produced in this facility. We will also start the production of barrels for all types of weapons from 5.45 mm to 30 mm."
In the near future Azerbaijan will start the production of sub-machine gun MP-5 under the license of the Turkish company MKE.
"We are also completing the testing of Mubariz and Yalguzag sniper rifles made ​​by local specialists. Both sniper rifles will be made operational this year," Jamalov stressed.
The minister believes Azerbaijan's main goal in participating at international exhibitions is to carry out the export of defense industry products abroad.
"During the DSA-2014 exhibition we agreed with several Malaysian and Singaporean companies on organization of the marketing of Azerbaijani products in the markets of Southeast Asia," he noted.
"The geography and structure of our export is multifold. We carry out exports to Turkey, Russia and Belarus. Currently, we have contracts with one NATO member-state. We are preparing to realize the export of our products to this country. With our activity we will show that Azerbaijan can be known not only for oil, but also for its defense industry," he concluded.
Azerbaijan is strengthening its military power and defense capabilities on a yearly basis. The establishment of the Ministry of Defense Industry has been very effective in strengthening the defense potential of the country.
The defense products output in Azerbaijan surged by more than eight-fold during 2005-2013. The ministry produced some 121.2 million manats worth of defense-purpose products and delivered them to customers in 2013.
The Defense Industry Ministry closely cooperates with more than 60 companies from various countries.