Azerbaijan's business opportunities presented in Modena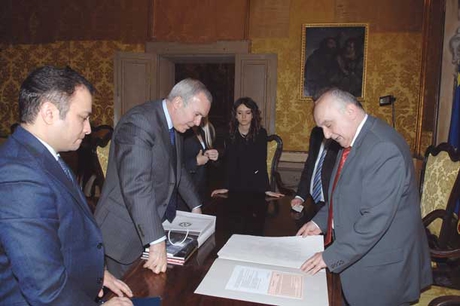 Azerbaijan's Ambassador to Italy Vagif Sadigov visited the country's city of Modena to discuss cooperation between the city and the country on various fronts,AzerTag state news agency reported.
During the visit, the ambassador attended a workshop co-organized by the Modena Chamber of Commerce and Italy-Azerbaijan Trade Institute (ITAZERCOM).
He highlighted Azerbaijan's history, state structure and foreign policy, as well as social and economic reforms carried out in the country and achievements gained as a result of these reforms.
Sadigov noted Azerbaijan was one of the countries with highest development index, and highlighted that the country has turned into a country which makes investments.
He also briefed the event participants on the country's main economic indicators, saying that the big progress had been observed in Azerbaijan's non-oil sector in recent years.
Sadigov also spoke of the history of bilateral bonds between Azerbaijan and Italy, noting these relations had been developing successfully on all fronts.
He also pointed to Italian business circles' interest to Azerbaijan's agriculture, transport, information technologies, environment, tourism, and other spheres had been increasing.
The workshop, attended by President of Modena Chamber of Commerce Maurizio Torreggiani, President of ITAZERCOM Manuela Traldi, also featured discussions on finance and investment opportunities, and the country's macroeconomic development trends.
The ambassador also visited the Military Academy of Modena to meet Commander of the academy, major-general Giuseppe Nicola Tota.
They exchanged views over prospects for the cooperation between the two countries in the military field.
Sadigov also met Mayor of the city of Modena Giorgio Pighi to discuss how to develop relationship between the two countries' cities in the economic, cultural and humanitarian ties.