7 March 2014 14:01 (UTC+04:00)
1 191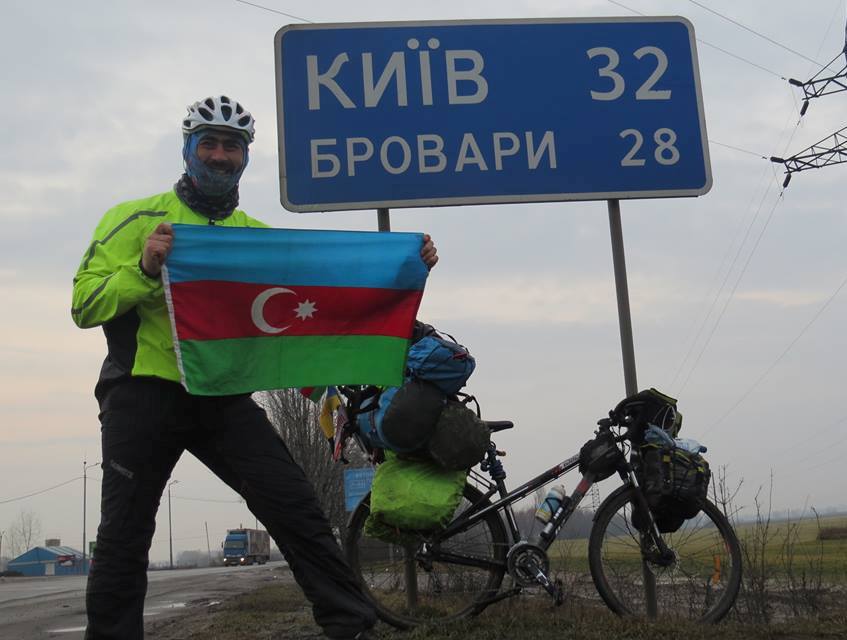 By Nigar Orujova
Courageous Azerbaijani cyclist Ramil Ziyadov has reached Ukrainian capital, Kiev.
Cyclist-traveler Ramil set off a two-year journey in the name of Azerbaijan this January, during which he will pedal 45,000 kilometers across Eurasia and Africa.
He already has covered over 1,800 kilometers by passing over Georgia, North Ossetia, Kabardino-Balkaria, Stavropol and Rostov regions of Russia, and the eastern parts of Ukraine.
"People are very good and welcoming here [in Ukraine]. This part of my way was very interesting, the nature is very beautiful," he said.
Coming to Kiev from Dnepropetrovsk, Ramil met with Azerbaijani ambassador to Ukraine Eynulla Madatli.
Reaching Kiev was very difficult for Ramil.
"I was caught in the rain and wet snow. The road is bad and it is difficult to cycle on such roads," he explained
However, he is optimistic about the upcoming trip to Belarus.
"Every day is extreme: physical load, wheels deflating, and different unpredictable situations. Of course, it is more convenient in cities, where I can stay in hotels, but I've got used to my tent, my one-room flat," Ramil said.
Ramil is warm-welcomed by local population and Azerbaijani Diaspora in all the cities. He is also very popular in cities he visits, giving interview to local TV-channels and newspapers.
Ramil will continue his trip to Cameroon, Senegal, Morocco, and Egypt. Later, he will return to his homeland from Turkey and Iran.
Accepting the risks, with only cold-weather clothing, sleeping bag and a tent, Ramil wants to show the world the strength of Azerbaijanis.
During his trip, Ramil also informs people around the world about Azerbaijan, its achievements and developments, and its acute problem, the Nagorno-Karabakh conflict with Armenia.
This is the third such a tour for the captivated cyclist, who has already covered over 15,000 kilometers in six months, cycling from Russia to China, and a 300-kilometers tour in Azerbaijani regions.
Related News