Azerbaijan's development mulled at int'l conference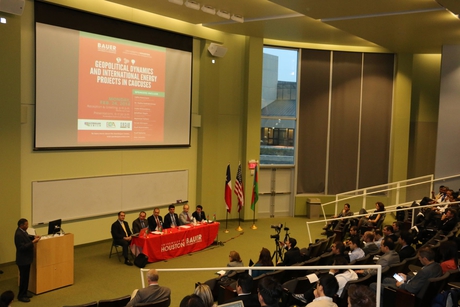 The Azerbaijan Center in collaboration with the Bauer College of Business, the University of Houston, and Energy Association held an annual lecture series on the development of Azerbaijan after the tragic events of Khojaly genocide.
The event was titled "Geopolitical Dynamics and International Energy Projects in the Caucasus". Frank Kelley, Associate Dean of Undergraduate Business Programs C. T. Bauer College of Business made welcome remarks,AzerTag state news agency reported.
The event started with a lavish reception at the Mecher Hall Ticker followed by an educational lecture at the Cemo Hall, University of Houston. The number of attendees was close to 100-150. Each attendee received a folder with the information about Azerbaijan and Khojaly tragedy.
The lectures consisted of a panel of honorable guest speakers who shared their knowledge with the attendees. At the end of the lecture, students and participants asked additional questions.
Irada Akhundova, President of the Azerbaijan Center, thanked the University of Houston, its officials, the Energy Association and the honorable guests and guest speakers for attending the event. She spoke briefly about how Azerbaijan got its independence and what obstacles and losses the country on its road to freedom. A short video about Khojaly genocide was screened during a moment of silence.
Other speakers included Radha Radhakrishnan, Clinical Assistant Professor Energy Supply Chain, University of Houston, Jonathan Slapin, Associate Professor at the University of Houston, Department of the Political Science, Sanan Mirzayev, Advisor to Executive Director World Bank for Azerbaijan in Washington DC, Rauf Mammadov, Director of SOCAR USA Representative, Yusif Babanly, AzerTAc correspondent to the United States and co-founder of U.S. Azeris Network; Alex Vatanka, MA, Middle East Institute.