Baku interested in developing ties with Tehran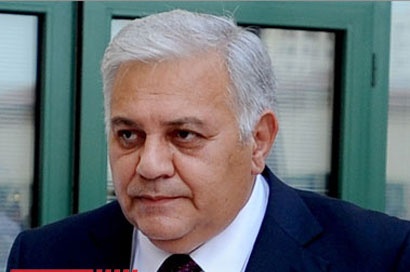 By Sara Rajabova
Azerbaijani parliament speaker said his country is interested in the further development of relations with Iran.
At a meeting with his Iranian counterpart Ali Larijani, Oqtay Asadov stressed the importance of mutual visits for increasing bilateral relations, İSNA reported.
The sides discussed issues of bilateral cooperation, as well as regional and international issues.
Larijani said the development of cooperation is important for both countries, noting that Azerbaijan and Iran must also develop their inter-parliamentary relations.
Asadov visited Iran to participate in the ninth meeting of the heads of the parliaments of the Organization of Islamic Cooperation (OIC) member states, which is being held in Tehran.
Giving a speech at the 9th meeting of Islamic Inter-Parliamentary Union (IIPU) on February 18, Asadov said the settlement of the Syrian and Palestinian crises is only possible through political negotiations, and it conforms to Azerbaijan's position.
Asadov said the settlement decision adopted by the IIPU can play a decisive role in resolving the Syrian crisis.
He noted that Azerbaijan has a strong position where security provision for Muslim countries is concerned.
"We believe that Islam is a symbol of the brotherhood and solidarity of Islamic states, and we have to use this potential to resolve existing problems," Asadov said.
Saying that diplomacy plays an influential role in international affairs, Asadov added, "We believe that the establishment of peace and stability and development of inter-parliamentary relations play an indispensable role."
He also stressed that the Azerbaijani government attaches great importance to the development of the OIC and its Inter-Parliamentary Union.
Referring to Armenia's aggression against Azerbaijan, Asadov noted that the OIC played an influential role in supporting Azerbaijan's position in 2008, and the UN adopted a resolution on the Nagorno-Karabakh conflict with the support of Islamic states.
The Nagorno-Karabakh conflict emerged in 1988 when Armenia made territorial claims against Azerbaijan. Since a lengthy war in the early 1990s that displaced over one million Azerbaijanis, Armenian armed forces have occupied over 20 percent of Azerbaijan's internationally recognized territory, including Nagorno-Karabakh and seven adjacent regions.
Asadov went on to say that the Karabakh problem threatens the safety of the region and other countries of the world.
On the same day, Asadov and Iranian President Hassan Rouhani discussed the development of relations between Azerbaijan and Iran.
Tehran is hosting the ninth meeting of the IIPU at the level of parliamentary heads.
The representatives of 47 countries have taken part in the meeting which will complete its work on February 19.
At the meeting, the chairmanship of the Union was transferred from Sudan to Iran for a year.
Fighting extremism and challenges to democracy in Islamic nations, technical and scientific cooperation, and the issue of Palestine are the main topics on the agenda of the IIPU meeting.
The IIPU was established in 1999 at the initiative of Iran, and seeks to strengthen parliamentary cooperation among Islamic countries in order to solve the challenges facing the Islamic world.