Baku hosts int'l sumo tournament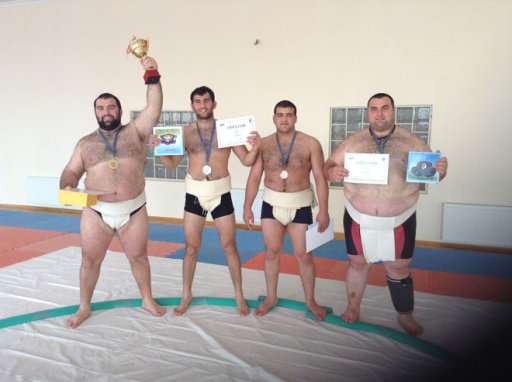 By Sabina Idayatova

Azerbaijan Sumo Federation hosted an international sumo tournament including athletes from Azerbaijan, Turkey, Russia, Georgia, Sri Lanka and Jordan.
Head coach of Azerbaijan team, Secretary General of Sumo Federation, International Judge Rufat Ismayilov informed about this on November 26.
"Prizes were awarded in the absolute weight category, in which the weight of the athletes did not matter," Ismayilov said.
One of the leaders of the Georgian team Levan Berianidze, whose weight is 150 kg, become a champion after a persistent and fascinating match. In the final round, he defeated Azerbaijani athlete, World and European champion Namig Sadikhov
In the semifinals Sadikhov (weight 85 kg) defeated a world championship medalist from Georgia Aftandil Tsertsevadze (weight 215 kg), who eventually shared the bronze pedestal with Azerbaijani athlete, winner of the European Youth Championship Amiraslan Ahmadov.