Work on Caspian Sea draft convention progressing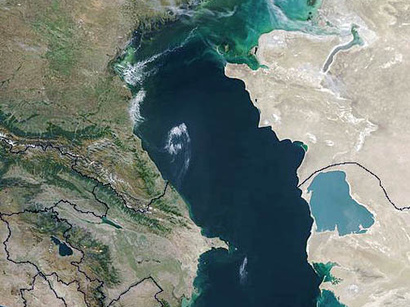 By Nigar Orujova
Military presence in the Caspian Sea by states outside this region is unacceptable, Russian Foreign Minister Sergei Lavrov said.
He made the remarks at the 34th meeting of Working Group on the Convention on the legal status of the Caspian Sea at the level of deputy foreign ministers of the Caspian states in Moscow.
"In today's conditions it is crucially important to keep the Caspian region as a zone of peace, friendship and good neighborliness. Russia intends to continue to abide by the existing arrangements to address all fundamental Caspian issues only among "the five" [Russia, Kazakhstan, Turkmenistan, Azerbaijan and Iran] whose members have exclusive sovereign rights over the sea and its resources," Lavrov said.
Attempts by certain countries and organizations, which are located far away from the Caspian Sea, attempts to impose their interests on the Caspian states, pursue their own interests do not help solve these problems, he believes.
According to Lavrov, Russia believes that work on the draft convention on the legal status of the Caspian Sea is progressing well and it is the time to specify the areas of cooperation identified in the previously signed agreements and the ones being prepared.
"Since the last time we met in Moscow, which was in July 2011, more than two years have passed, and it is pleasant that this period was not lost and was characterized by a high intensity of the negotiation process," he said.
According to Lavrov, work on the draft convention on the legal status is progressing well enough.
Lavrov said that the development of new protocols for the Tehran Convention for the Protection of the Marine Environment of the Caspian Sea, an agreement on cooperation in hydrometeorology, conservation and sustainable use of biological resources of the Caspian Sea, and prevention and mitigation of emergencies are in the final stage.
According to him, the "ratification process of an agreement on security cooperation in the Caspian Sea signed in 2010 is in the final stage".
"We believe that the time has come to finish the process of ratification and simultaneously undertake the development of protocols that would concretize various areas of cooperation outlined in these agreements," Lavrov concluded.
Deputy Foreign Minister Khalaf Khalafov represented Azerbaijan at the event.
The next Caspian summit of all the coastal countries is scheduled for the second half of 2014 in Astrakhan.
The Framework Convention was the first legally binding regional agreement signed by all the five Caspian littoral states, laying out general requirements and an institutional mechanism for environmental protection in the resource-rich Caspian region.
Kazakhstan and Azerbaijan signed agreements on the delimitation of the Caspian Sea on November 29, 2001 and February 27, 2003.
Kazakhstan, Azerbaijan and Russia signed an agreement on the delimitation of adjacent sectors of the Caspian Sea on May 14, 2003.