Azerbaijan develops map of landslide hazard areas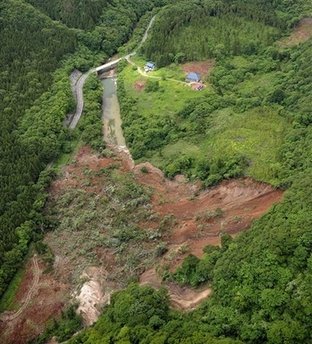 By Sabina Idayatova
Azerbaijan is developing a map of landslide prone zones, Azerbaijani Deputy Prime Minister Abid Sharifov told journalists on October 29.
According to Sharifov, the Ecology and Natural Resources Ministry is developing the map.
"The map will include all landslide prone areas that are dangerous for construction," the deputy premier said.
Speaking about the causes of landslides, Sharifov said that human factor is the main cause of the majority of the landslides.
"Cafes and restaurants in the Agsu pass do not have their own sewage system, and the water that accumulates in the wells is absorbed by the soil, causing landslides. A similar problem occurs in the landslide hazard zones in Baku. People need to understand that the water that flows through soil can create problems for their homes," he said.
It should be noted that activation was recorded last week in Azerbaijan in Zikh landslide prone zone of the Absheron Peninsula, Shamakhi landslide zones, and landslide prone zones near Lankaran - Lerik road.
Earlier on October 25, Azerbaijani Minister of Ecology and Natural Resources Huseyn Bagirov said there were a lot of landslide prone zones due to the anthropogenic and man-made activities on the Absheron Peninsula that begin at the start of the season.

According to Bagirov, the situation in the landslide prone zones gets worse during heavy rains in autumn.
"This is a natural process. Some of them have man-made reasons. We still have not got used to working in accordance with the rules of nature. Therefore, we are faced with problems," he said.
Bagirov also said that video cameras have been installed on rivers where floods may occur.
"Video cameras were set up on rivers where flooding had been observed most often, and anyone can monitor the situation there," Bagirov said.