Rohani: Iran ready to make efforts on Nagorno-Karabakh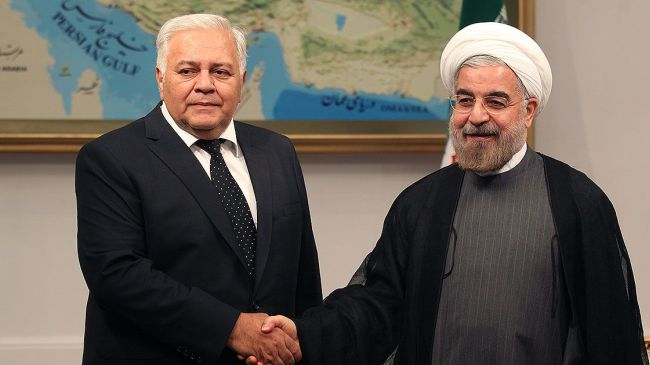 By Sara Rajabova
The cooperation between Tehran and Baku can help enhance and consolidate regional ties, newly elected Iranian President Hassan Rohani was quoted by Press TV as saying.
In a meeting with Azerbaijani Parliament Speaker Ogtay Asadov in Tehran on August 5, Rohani said Iran has always favored expansion of ties with all countries of the world, particularly friendly and neighboring states.
The Iranian president also pointed to the good parliamentary relations between Iran and Azerbaijan, saying that such relations can serve common goals on the regional and international stage and also benefit the Iranian and Azerbaijani nations and governments.
Rohani said his country supported the territorial integrity of Azerbaijan in all aspects, noting that Iran will be ready for further efforts on the settlement of the Nagorno-Karabakh conflict in the framework of Azerbaijan's sovereignty rights.
The Nagorno-Karabakh conflict emerged in 1988 when Armenia made territorial claims against Azerbaijan. Since a lengthy war in the early 1990s that displaced over one million Azerbaijanis, Armenian armed forces have occupied over 20 percent of Azerbaijan's internationally recognized territory, including Nagorno-Karabakh and seven adjacent regions. The UN Security Council's four resolutions on Armenian withdrawal have not been enforced to this day.
Rohani also expressed gratitude to Azerbaijani officials for the participation in his inauguration ceremony.
Parliament Speaker Asadov, for his part, noting Iran's possibilities in the peaceful settlement of the Nagorno-Karabakh conflict, expressed belief that Rohani would make major efforts in the conflict resolution.
Asadov also regarded Iran as an important country in the Middle East, saying Baku favors further expansion of diplomatic relations and cooperation with Tehran in a variety of areas.
He stated that the Azerbaijani parliament supports bilateral, regional and international cooperation between the two countries to achieve common goals.
Earlier, the Azerbaijani parliamentary speaker met with his Iranian counterpart Ali Larijani in Iran on August 4 during his visit to the neighboring country. The meeting was held after the inaugural ceremony of President Rohani.
Larijani said during the meeting that friendly and fraternal relations between Azerbaijan and Iran have deep historical roots and Iran is ready for any cooperation to resolve regional problems and promote stability.
Asadov, for his part, said the development of friendly relations between the two countries is important for Azerbaijan. He highly assessed Iran's role in maintaining security and stability in the region, especially in the process of resolution of the Nagorno-Karabakh conflict.
The speaker also stressed that the Azerbaijani parliament is committed to comprehensive development of economic, political and cultural relations between the two countries.
A delegation headed by Asadov visited Iran to attend the inauguration ceremony of Iran's new president. The delegation included the head of Office of the Azerbaijani Parliament Safa Mirzayev and other officials.
Rohani, whose four-year tenure officially started on August 4, took over from Mahmoud Ahmadinejad as Iran's President.
Numerous representatives of other countries attended the inauguration ceremony of Iran's new president. The delegations from over 50 countries included presidents, prime ministers, vice presidents and parliament speakers. This is the first time that Iran has invited foreign officials to attend a presidential inauguration ceremony.
Rohani won Iran's June 14 presidential election with 50.7 percent of a total of over 36 million ballots. Voter turnout was 72.7 percent.