Azerbaijani speaker to attend Iranian president's inauguration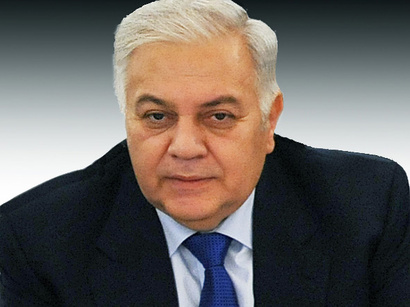 By Sara Rajabova
Azerbaijani Parliament Speaker Ogtay Asadov will take part in the inauguration ceremony of the newly-elected Iranian President Hassan Rohani.
Azerbaijani Ambassador to Iran Javanshir Akhundov said in a meeting with Iranian lawmaker Mirqesmat Mousavi-Asl that Speaker Asadov will visit Iran to attend the inaugural swearing-in ceremony of Rohani, Press TV reported.
Rouhani won over 50 percent of votes at the elections, which were held on June 14, 2013 and the official inauguration of the new president is scheduled for August 4.
Iran's Foreign Ministry spokesman Abbas Araqchi said recently that leaders and officials from across the world, except the United States and Israel, have been invited to Rohani's swearing-in ceremony.
Afghan President Hamid Karzai, Pakistani President Asif Ali Zardari, Lebanese President Michel Sleiman, Syrian Prime Minister Wael al-Halqi and Tajik President Emomali Rahmon will travel to Iran to participate in the ceremony.
Iraq will be represented by Vice President Khazir al-Khazai and Turkey by Minister of Development Cevdet Yilmaz.
Kuwait, Oman, the United Arab Emirates, Qatar, Azerbaijan and Latin American countries will also send in high-level delegations to the event.
This is the first time that heads of state and leaders from abroad have been invited to attend the swearing-in ceremony of Iran's president. Previous presidential inaugurations were attended by ambassadors.
Ambassador Akhundov said during the meeting that the visit of the Azerbaijani parliamentary speaker will have a major impact on the further development of the ties between the two sides, especially parliamentary cooperation.
He also welcomed the promotion of relations between his country and Iran, particularly cooperation in the trade and economic sectors.
The Iranian MP, for his part, pointed to the significance of the parliamentary ties and the role of friendship groups in boosting bilateral relations.
Given the numerous historical, cultural and religious commonalities between Iran and Azerbaijan, the strengthening of parliamentary ties as well as growing contacts between the lawmakers of both countries in the form of parliamentary friendship groups will play a significant role in securing the interests of the two nations, Mousavi-Asl said.
The lawmaker said that the expansion of trade and economic ties between Iran and Azerbaijan, in particular among borderline provinces, was also a key factor in speeding up the growing trend of cooperation between the two countries.
He pointed to the opportunities and challenges in mutual cooperation, adding that the two sides should work together closely to remove the existing obstacles to the enhancement of relations.