Ukraine's Azerbaijanis protest 'Armenian genocide' bill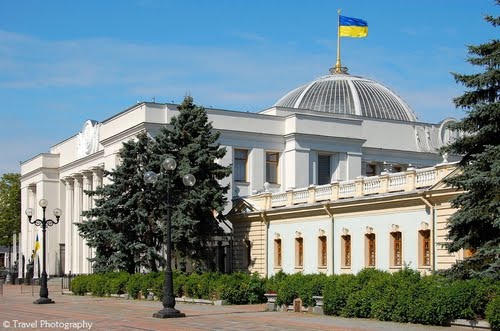 By Sara Rajabova
Azerbaijanis living in Ukraine have gathered outside the Ukrainian parliament building to protest the draft resolution on the alleged "Armenian genocide".
A statement, undersigned by the Congress of Ukrainian Azerbaijanis (CUA), Azerbaijani Youth Association of Ukraine and representatives of the Azerbaijani Council of Elders in Ukraine, was sent to Ukrainian President Viktor Yanukovych, CUA head Rovshan Tagiyev told Trend news agency.
The statement says the draft resolution is of serious concern to the Turkic-speaking peoples living in Ukraine, especially the Azerbaijanis.
The ethnic Armenian members of the Verkhovna Rada (the Ukrainian parliament), Arsen Avakov (opposition Batkivshina Party) and Vilen Shatvoryan (the ruling Party of Regions), prepared the draft resolution on recognition of the so-called Armenian genocide and registered it at the secretariat of the parliament.
"As is known, every year Armenian organizations around the world mark 1915 events as 'Armenian genocide'. Historians regularly hold discussions in connection with these events, but there is no final result. Ukraine is a multinational state, with more than 130 ethnic groups living there, such bills require a balanced approach," the statement reads.
It also notes that adoption of the bill would be a serious blow to the relations with the Turkic-speaking countries, including Azerbaijan and Turkey, toward Ukraine.
The protesters urged Verkhovna Rada and the President of Ukraine to prevent submission of the bill for discussion.
Representatives of Turkic countries decided to begin mass protests in Kiev on the day of the bill's discussion in Verkhovna Rada.
Armenia commemorates the alleged "Armenian Genocide" on April 24 each year. Armenia and the Armenian lobby claim that Turkey's predecessor, the Ottoman Empire, committed genocide in 1915 against Armenians, an allegation dismissed by Ankara.
Their efforts have even resulted in the recognition of the "Armenian Genocide" by the parliaments of several countries.
Historians note that during those developments, Armenians began an uprising, taking up arms against Turkey. To counter those actions, the Ottoman Empire decided to resettle the Armenians. The latter claim that their predecessors were subjected to genocide in the process.