Car accidents still a concern in Baku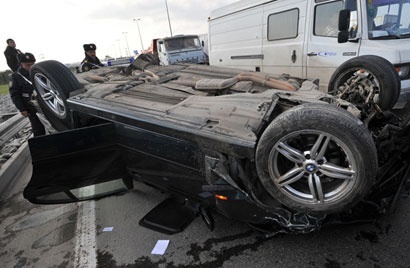 By Nigar Orujova
The situation on the roads in the Azerbaijani capital Baku raises serious concerns due to traffic jams and a rise in deadly road accidents. With the development of the city and its urbanization, more and more cars appear on the roads, which leads to an increase in the number of traffic accidents.
443 accidents which killed 133 people and injured 513 others were reported in Baku over the first five months of 2013, Baku State Traffic Police department head Vagif Asadov said on June 3.
The figure exceeds the one recorded for the same period of 2012 by 11 accidents, 8 deaths and 12 injuries.
In the five-month period the traffic police compiled 275,727 protocols, including 25,423 over speeding, 17,565 over failure to observe the rules of crossing intersections, 5,621 for running through the red light, etc.
Moreover, 50,501 protocols were drawn up over pedestrians' violating road traffic rules.
Asadov said that 23 road accidents took place in Baku last week alone, killing four and injuring 35 people.
Most of these road accidents in Baku were caused by speeding as well as running into pedestrians.
Also, 11 cases of automobile hooliganism were recorded in Baku during the reporting period.
Construction of crosswalks, underground and overland pedestrian crossings is still in process in Baku to solve the problem.
Although the number of traffic accidents has been declining in Azerbaijan, more than 1,000 people died last year in such accidents.
The Main State Traffic Police Department conducted a traffic safety campaign in April, aiming to step up measures to prevent fatal road accidents and provide for safety on the roads of the country.
A number of projects to increase children's awareness of road traffic culture and road safety are implemented in Azerbaijan every year to reduce children's injuries in car accidents.
However, the problem is still alarming in Baku. In order to solve the problem, drivers and pedestrians should realize that their safety is valuable and fragile and it is not worthwile jeopardizing it to get somewhere fast.