Azerbaijan marks Ilakhir Chershenbe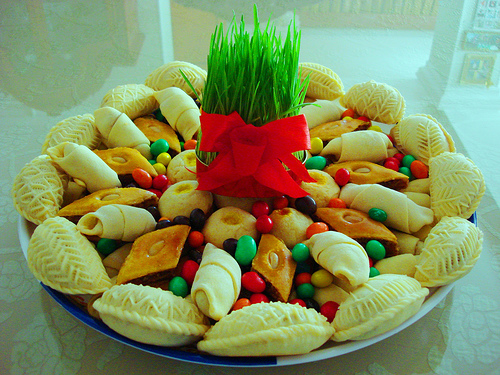 Novruz in Azerbaijan is associated with the beautifully lush green color of new growth and is specifically symbolized by the growing of freshly sprouted wheat or "samani" as the Azerbaijani people refer to it, Today.Az website reported.

Friends and families visit one another. Usually, a very carefully guarded hierarchy is observed and the oldest members of the community receive guests first. Gifts and food are shared with the needy, poor, and sick.

Usually preparation for Novruz begins a month prior to the festival. Each of forthcoming four weeks is devoted to one of the four elements and called accordingly in Azerbaijan. Each Tuesday, people celebrate the day of one of the four elements - water, fire, wind and earth. The last and the most important Tuesday is devoted to wind and called Torpag Charshanbasi or Ilakhir Chershenbe by Azerbaijani people.

On Ilakhir Chershenbe everybody -- the young and the old -- should jump over bonfires seven times. While jumping, it is necessary to keep saying: "My yellowness is for you, your redness - for me" that means "take away my diseases and give me your strength". When the festive fire almost goes out, one should throw a twig of rue to coals - this rite is believed to be a remedy for the Evil Eye. The festive fire should not be put out with water - it is better to let it go out.
On Ilakhir Chershenbe or in the Novruz evening, one can make a wish and go to the neighbor's doors at sunset. This tradition is called "gapipusdu". In front of each door, one drops a key onto the ground and overhears. The first two overheard words will indicate whether or not the wish will come true.
With Novruz comes new clothes. Houses and yards are cleaned. Trees are pruned; fields cleared. It's a time for renewing relationships as well. People who have had quarrels and refused to speak with each other use this chance to forgive one another and renew their relationships.

To be a guest of Azerbaijani family during Novruz means to have a chance to enjoy many chef-d'oeuvres of the national cuisine. Among the sweets served at the festive table which are to be served in every house are pakhlava, shakarbura, shorgogal, badambura etc.

The decoration of the festive table is khoncha, a big silver or copper tray with Samani placed in the centre and candles and dyed eggs by the number of family members around it. The table should be set, at least, with seven dishes.

Though there are many various dishes cooked in the festive evening, "the hit of the program" of each table is a pilaf with "gara" - a mixture of meat and dried fruits.

Within the festival, young men place handkerchiefs under the doors of their beloveds. If a girl reciprocates a young man's feeling, she should put sweets into a handkerchief, if she does not - a handkerchief will be empty.

Millions of bonfires will be seen on Earth - peaceful and festive fires bearing only the warmth and hope. Happy Ilakhir Chershenbe!