Memory of Khojaly genocide victims commemorated in Hague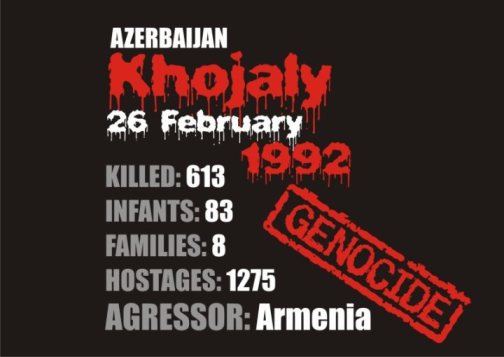 Ana Vatan' Association of Azerbaijani Women of the Netherlands, Holland - Azerbaijan - Turkey Cultural center, Azerbaijani youth living in the Netherlands and Dutch friend of Azerbaijan Gert Van Damme on Tuesday, February 26 initiated a rally in Hague, Netherlands to commemorate the 21st anniversary of Khojaly massacre.
The demonstrators marched to the Armenian embassy where they demanded peaceful settlement of Nagorno-Karabakh conflict and cessation of Armenia's aggression against the Azerbaijani people.
The participants of the rally submitted a petition to the Armenian embassy.
The Khojaly massacre is one of the most heinous and bloodiest events of the 20th century. Late into the night of February 25, 1992, the town of Khojaly came under intensive fire from the town of Khankendi and Askeran already occupied by Armenian armed forces. At night the Armenian forces supported by the ex-Soviet 366th regiment completed the surrounding of the town already isolated due to ethnic cleansing of the Azerbaijani population of the neighboring regions. The joint forces occupied the town, which was ruined by heavy artillery shelling.
Thousands of fleeing civilians were ambushed by the Armenian forces. Punitive teams of the so-called Nagorno Karabakh defense army reached the unprotected civilians to slaughter them, mutilating and scalping some bodies. In just a few hours, 613 civilians were killed, including 106 women, 70 elderly and 83 children. A total of 1,000 civilians were disabled. 56 people were killed with outrageous brutality, eight families were totally exterminated, and 25 children lost both parents, while 130 children lost one parent. Moreover, 1,275 innocent people were taken hostage.