Turkish party leader criticizes president Gul's letter to Sargsyan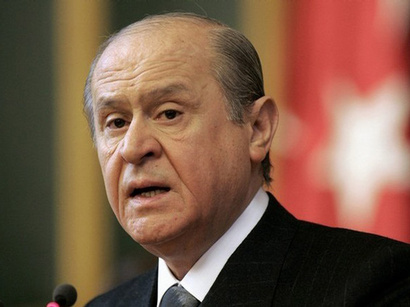 Turkish opposition Nationalist Movement Party chairman Devlet Bahceli has criticized President Abdullah Gul's congratulatory letter to re-elected Armenian President Serzh Sargsyan, Hurriyet newspaper said on Tuesday.
Bahceli said congratulations to Sargsyan on victory in presidential elections are unacceptable on the eve of anniversary of the Khojaly genocide.
"Gul's congratulation to Sargsyan, who was directly involved in committing the Khojaly genocide, saddened all of us," Bahceli said.
He added that the Khojaly genocide is the most brutal crime of the 20th century.
On Feb.25-26, 1992, Armenian occupation forces together with the 366th infantry regiment of Soviet troops stationed in Khankendi (previously Stepanakert) committed an act of genocide towards the population of the Azerbaijani town of Khojaly.
Some 613 people were killed including 63 children, 106 women and 70 old men. A total of 1000 civilians were disabled during the genocide. Eight families were killed, 130 children lost one parent and 25 lost both. Additionally, 1275 innocent residents were taken hostage, while the fate of 150 remains unknown.