Pakistan envoy: Kashmir, Karabakh conflicts similar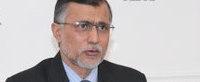 BAKU – Pakistani Ambassador in Baku Abdul Hamid said Friday there are similarities between the Kashmir and Nagorno Karabakh conflicts, reiterating his country's support for Azerbaijan in its long-standing dispute with neighboring Armenia.
Addressing a news conference devoted to February 5, Kashmir Solidarity Day, Hamid spoke about the history of the Kashmir dispute. He said India had been Great Britain's colony for over 100 years. In 1947, Britain abandoned India, passing a decision to divide Kashmir into two parts, granting its Indian-populated territories to India and those settled by Muslims to Pakistan.
"India occupied Kashmir, 87 percent of whose population were Muslims. Over 93,000 people were killed and 2 million others were displaced, 1.5 million of whom settled in Pakistan, while the rest of them headed to many other countries of the world," the ambassador said.
He noted that according to a UN resolution, the people of Kashmir are to determine the region's status through a referendum. "Afterwards, six more resolutions were adopted, but a referendum has never taken place and the problem remains unresolved."
Hamid said Azerbaijan and Pakistan are facing similar conflicts. "The similarities are the occupation of their territory by another country and the non-enforcement of UN resolutions."
Hamid noted that the similarity of the two countries' challenges draw the people of Azerbaijan and Pakistan closer, therefore, they support each other in a slew of international organizations.
"When the first resolution on the Nagorno Karabakh conflict was being adopted at the UN Security Council, Pakistan chaired the UN SC as its non-permanent member, and not only backed Azerbaijan but also lobbied the adoption of this document."
According to Hamid, Pakistan has consistently stated its clear-cut stance on the Karabakh issue both in the United Nations and the Organization for Islamic Conference. He said his country has been supporting Baku's stance and a settlement of the long-standing dispute within Azerbaijan's territorial integrity, expressing hope that a peaceful solution would be found.
Hamid said Pakistan has never recognized Armenia. "When Armenia approached us asking 'what problems do we have between us and why have you not recognized us as a country?' we specifically said that we have just one problem, and that's the Nagorno Karabakh problem. Resolve it, and we will recognize you.'"
The Karabakh conflict emerged in 1988 due to Armenia's territorial claims. Azerbaijan and Armenia waged a war in the early 1990s, which claimed some 30,000 lives and displaced about a million Azerbaijanis. About 20 percent of Azerbaijani territory, including Nagorno Karabakh and seven adjacent regions, has been under the occupation of the Armenian armed forces since a ceasefire was signed in 1994. The UN has passed four resolutions on an unconditional Armenian pullout, but none of them have been implemented to date. The OSCE Minsk Group-brokered peace talks have been largely fruitless so far.
The status of Nagorno Karabakh has been a stumbling block in peace talks. Baku says the occupied districts must be freed and Azerbaijani refugees returned home, and only after that could the region's status be determined within Azerbaijan's territorial integrity, while Armenia insists that self-determination is the core principle for a settlement of the dispute. The mediators are seeking a solution leaning simultaneously on both principles.
The Kashmir issue has been the most acute and intractable conflict in India-Pakistan relations over the past 60 years. Tension continues to this day, marred by sporadic attacks in Jammu and Kashmir, the capture and killing of hostages, and armed clashes along the Indian-Pakistani border.