Venzana furniture factory opens in Gazakh [PHOTOS/VIDEO]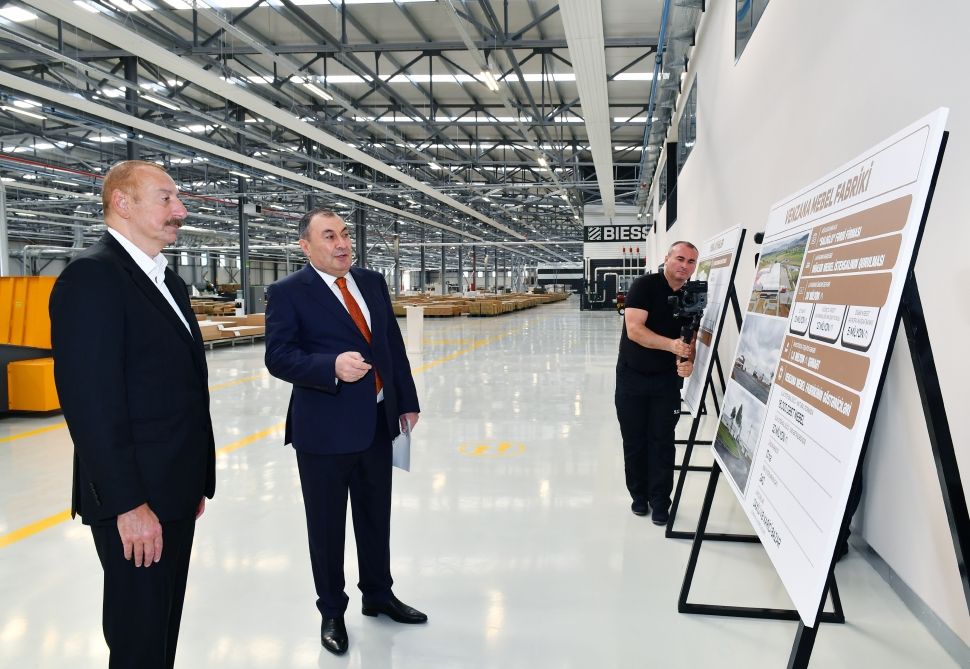 President of the Republic of Azerbaijan Ilham Aliyev has attended the inauguration of "Venzana" furniture factory in Gazakh.
The head of state was informed of the works done.
The "Venzana" furniture factory was created by "Saloglu" furniture manufacturer with a 10 mln manat soft loan of the Entrepreneurship Development Fund.
The company imported 8.4 million manat worth of equipment and was exempted from taxes and tariffs in the amount of 1.8 million manats.
The foundation stone of the "Venzana" furniture factory was laid by President Ilham Aliyev during his Gazakh district trip in 2016.
The factory covering a total area of 18 thousand square meters has the capacity to put out 12 thousand pieces of bedroom and 6 thousand dining room furniture.
The company plans to export its products to Russia, Kazakhstan, Georgia, Germany and other countries. After the launch of the factory, the number of "Saloglu" company's employees will come to 600. The investment in the factory amounted to 30 million manats.
As a follow up to the project, the company is planning to open 4 new factories worth 27.2 million manats in the area of 20 hectares. The project, which aims to meet the country's need in raw materials, is scheduled to be completed in 2025.
The head of state launched "Venzana" furniture factory and viewed the production process.
---
Follow us on Twitter @AzerNewsAz