Baku strongly condemns & rejects Mirzoyan's slanderous views against Azerbaijan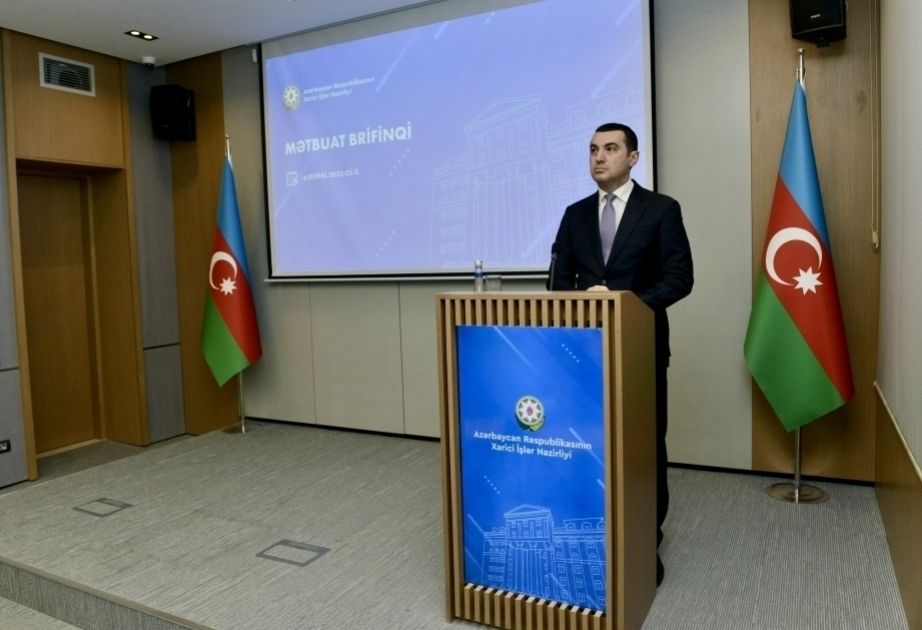 "We strongly condemn and reject false and slanderous opinions expressed against Azerbaijan by Armenian Foreign Minister Ararat Mirzoyan at his meeting and press briefing with Russian Foreign Minister Sergey Lavrov," Azernews reports per Foreign Ministry Spokesperson Ayxan Hajizada.
Hajizada said that, contrary to the provisions of the November 10, 2020, trilateral statement, those who did not completely withdraw their armed forces from the sovereign territories of Azerbaijan, were not satisfied with this and illegally transferred their military personnel to the Azerbaijani territory, committed continuous military provocations against the country.
It is the ultimate level of hypocrisy that Armenia, which uses the Lachin road, intended only for humanitarian purposes, to transport Azerbaijan's natural resources and mine Azerbaijan's territories, often refers to the document in question and unjustifiably accuses Azerbaijan of violating the trilateral statement, including the peace process, he added.
Hajizada noted that Armenia's accusation, which has carried out a policy of mass ethnic cleansing against Azerbaijanis and committed acts of genocide, for allegedly blocking the road to Lachin, and allegedly committing "ethnic cleansing" and "genocide" against citizens of Armenian origin living in the Karabakh region, is nothing but another lie calculated to mislead the international community.
"Despite that Azerbaijan is committed to the efforts to advance the peace agenda in the region, Armenia is deceiving the international community by trying to overshadow the legitimate protest rally of representatives of Azerbaijani civil society on the Lachin road, in order to undermine this process and evade its commitments. As we witnessed on March 20, it is unacceptable for Armenia to engage in further provocations during the presence of the EU mission in the country," he added.
"In general, during the press briefing, Armenian Foreign Minister Ararat Mirzoyan's repetition of the baseless statement of the Armenian Foreign Ministry dated March 18, which shows baseless territorial claims against Azerbaijan, targets the territorial integrity and sovereignty of Azerbaijan, and rudely interferes in its internal affairs, shows that Armenia has not learned from history and the statement issued by the Azerbaijani Foreign Ministry against these allegations on March 19."
"We call on Armenia to refrain from provocative actions and statements, dangerous rhetoric that undermines the provision of peace and security in the region, to fulfill its commitments instead of unjustly accusing Azerbaijan and misleading the international community," Hajizada stressed.