Azerbaijanis in Vienna picket UN office over Armenia's eco-terror in Karabakh [PHOTO]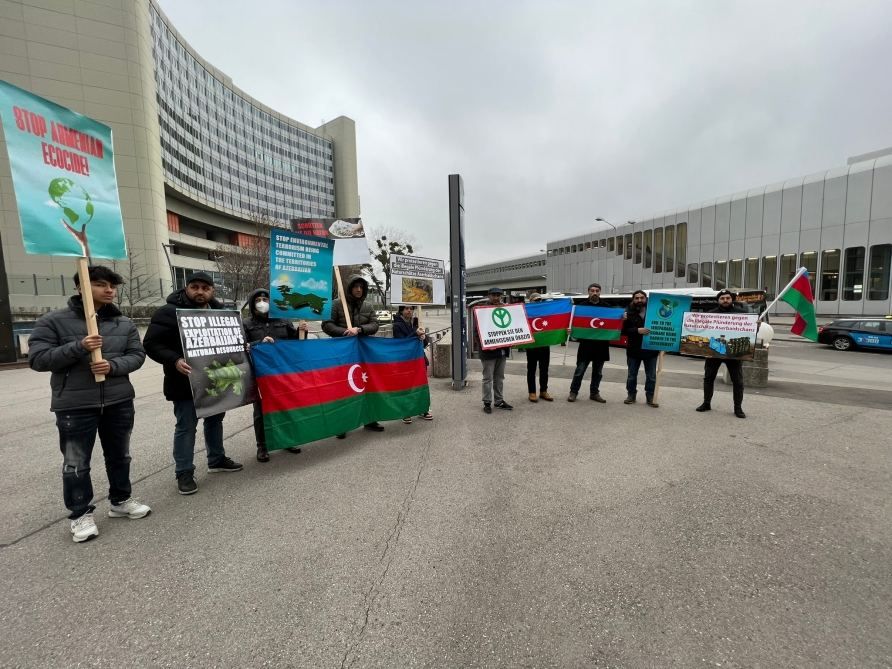 Azerbaijani diaspora activists in concert with the academic community in Azerbaijan and the Austrian-Azerbaijani Association of Culture and Entrepreneurs (AZER-DER) picketed the UN office in Vienna in protest at the illegal exploitation of Azerbaijan's mineral resources by Armenians in Karabakh, Azernews reports via State Committee for Work with Diaspora.
Protesters chanted slogans "We protest against the plunder of Azerbaijan's natural resources!", "End ecocide by Armenia!", "Stop ecological terror on the territory of Azerbaijan!" and showed support for the Azerbaijani volunteers, civil society representatives, and environmental activists, who are protesting on the Khankandi-Lachin road.
They stated that Azerbaijanis abroad would not remain silent about Armenia and Armenian separatists' exploitation of the country's surface and underground resources. They contend that the eco-terror committed in the Karabakh economic region ought to become a global issue.
Locals were informed that Armenians destroyed about 60,000 hectares of forests during the nearly 30-year-long occupation.
It was noted that the international community should support Azerbaijan's legitimate voice, which is working diligently to reverse the effects of the war and engage in extensive creative endeavors and call for the adoption of practical measures to put an end to environmental terror.
To recap, following discussions with the command of the Russian peacekeeping contingent on December 3 and 7, 2022, Azerbaijani specialists from the Ministries of Economy, Ecology, and Natural Resources, the State Service for Property Issues under the Ministry of Economy, and AzerGold CJSC were to conduct primary monitoring on illegal exploitation of mineral deposits on Azerbaijani territory. However, the monitoring failed due to the provocation of ethnic Armenians. The peaceful protest that started on December 12, 2022, continues up to today and marks Day 30.
---
Follow us on Twitter @AzerNewsAz