Ilham Aliyev congratulates counterpart on Italy's victory at Euro 2020 [UPDATE]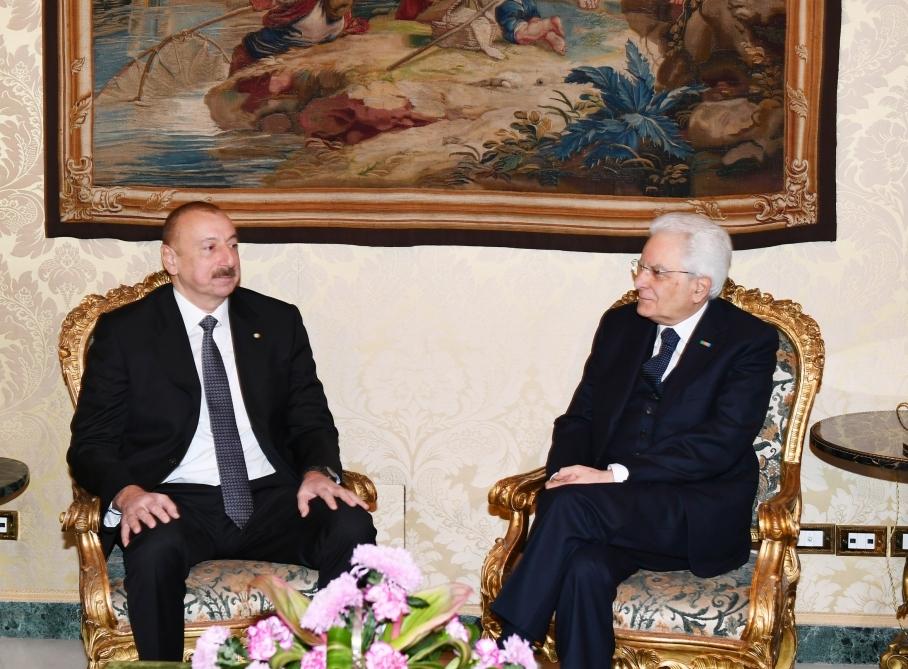 By Aisha Jabbarova
Azerbaijani President Ilham Aliyev has congratulated Italian counterpart Sergio Mattarella on the Italian national team's victory at the UEFA Euro 2020.
"I extend my sincere congratulations to the Italian footballers who have shown high skill, great perseverance, invincible will in all the games of the European Championship and won this high title for the second time in the Italian football history, and wish them new successes," Aliyev wrote in a letter sent to Mattarella on July 12.
Touching upon the Azerbaijani-Italian ties, Aliyev stressed that the two countries will continue efforts to further expand the traditional friendly relations, to deepen mutually beneficial cooperation and strategic partnership.
Italy won UEFA Euro 2020, beating England 3-2 in penalty kicks at Wembley Stadium in London on July 11.
Baku was among 11 European cities to host EURO 2020 held from June 11 to July 11. Baku Olympic Stadium hosted four games of A group and was awarded by the UEFA for the successful holding of EURO 2020 matches.
The first match of the group was held in Baku on June 12 between Switzerland and Wales (1:1), while Italy beat Turkey (3:0). Wales-Turkey match (2: 0) was held on June 16. A total of 45,682 people attended Group A matches in Baku.
It should be noted that Italy was Azerbaijan's top trade partner in 2020 with the mutual trade amounting to $4.5 billion while Azerbaijan was the largest supplier of crude oil to Italy.
Italy also supported Azerbaijan's territorial integrity during the war in 2020 and is among the countries reconstructing Azerbaijan's lands liberated from the Armenian occupation.
---
Follow us on Twitter @AzerNewsAz