President Aliyev: We see future of Nagorno-Karabakh as peaceful, prosperous [UPATE]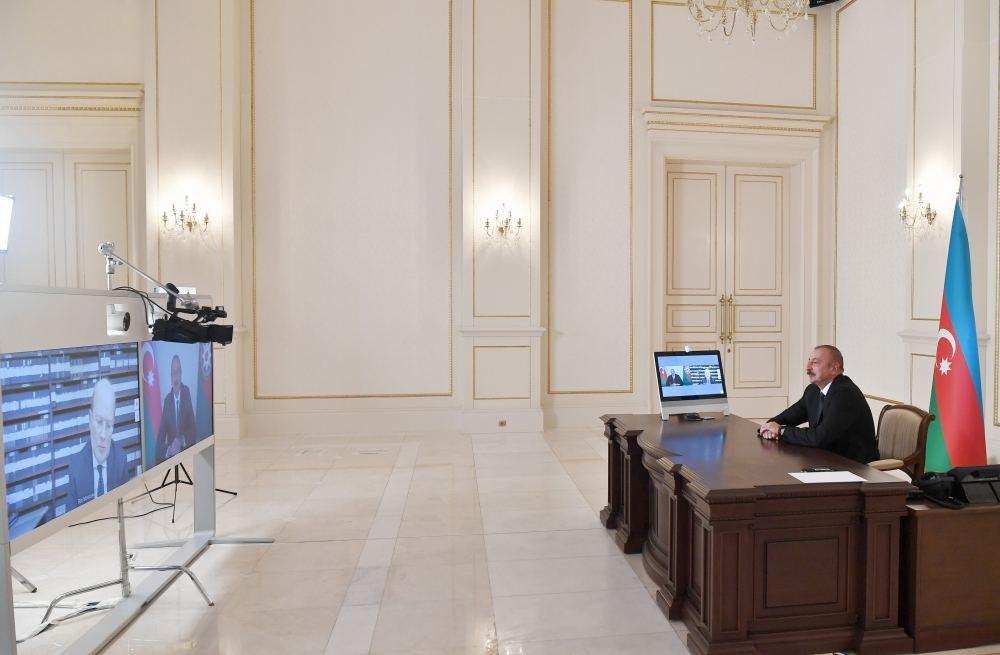 By Vafa Ismayilova
President Ilham Aliyev has said that Azerbaijanis and Armenians can co-exist peacefully in Azerbaijan's Nagorno-Karbakh region if Armenia abandons its aggressive policy and the region's occupation is eliminated.
President Aliyev made the remarks in an interview with Italy's Rai 1 TV channel on 26 October.
"We see the future of the Karabakh region – not only the upper part of it but also the plain because Karabakh is a large part of Azerbaijan – as a prosperous and peaceful territory where Azerbaijanis, who must return there, and the Armenians who now live there will live in peace. Our position is this. I believe that this can be achieved with mutual goodwill of the parties," he said.
The president said that to ensure the peace and prosperity in the region, the Armenian leadership must simply abandon its aggressive policy.
"And if this happens, with our investments and our experience of rebuilding the country, we can turn this region into one of the most prosperous regions in the world. But for this to happen, the consequences of the war must be eliminated. The occupation must be eliminated, the Azerbaijanis must return to the lands where they have lived for centuries, and live in harmony with the Armenian population. It will not be easy and it will take time," Aliyev said.
Asked if Azerbaijan could use Europe's successful examples of a peaceful solution to territorial disputes, Aliyev said that Italy could play an important role in the Karabakh settlement.
"As for the model that exists in Italy, we have studied it. We also studied the model of the Aland Islands and other successful autonomy experiences. Azerbaijan, unlike Armenia, is a multiethnic state. In Armenia, as you probably know, 99 per cent of the population are Armenians. Therefore, this is a very positive experience of self-government which could be applied in our case. In fact, as far as I know, such proposals were made in the mid-1990s. Even groups of representatives of non-governmental organizations and political scientists have visited your country, the region you are talking about, and the Aland Islands. But Armenia has always categorically rejected this," he said.
Furthermore, Aliyev said that Armenia believed that they would be able to occupy Azerbaijan's territories forever relying on military, political and economic support from leading countries of the world, but they made a gross miscalculation.
"We are proving our case on the battlefield today. We are implementing UN Security Council resolutions and are restoring international law," he said.
Azerbaijani President Ilham Aliyev once again dismissed the accusations alleging that Azerbaijan and Turkey are sending mercenaries from Syria to Karabakh via Turkey.
"We strongly reject these insinuations... We have 100,000 soldiers of the regular army. If necessary, we will announce overall mobilization, which, by the way, we have not done unlike Armenia. Therefore, this is all lies and slander," he said.
He said that such unfounded accusations were brought against Azerbaijan by only two countries – France and Russia immediately after the outbreak of hostilities.
Aliyev also dismissed the allegations about the involvement of Turkish troops in Azerbaijan's counteroffensive operations.
"As for the participation of Turkish troops in operations, this is also a lie. There is not a single piece of evidence. The fact that Turkish F-16s are on the territory of Azerbaijan was a result of our joint military exercises on the eve of the conflict. We do not talk about how many Russian MIG-29s and Su-30s are on the territory of Armenia. We do not talk about the fact that 5,000 Russian troops are located at the base in Armenia in Gyumri and, according to our data, there are periodical supplies of the Armenian armed forces from there. These are facts, in contrast to what is being said about us. Therefore, I suggest that those who want to accuse us first deal with themselves and then make such hasty conclusions based on false information," he stressed.
He noted that he asked France's relevant agencies to provide evidence.
"Nothing was presented to us," he said, describing all this as an attempt to overshadow Azerbaijan.
The president regretted that such unfounded accusations came from the co-chair countries, which are supposed to be objective. In this regard, he recalled that Armenia could not have existed on Azerbaijan's occupied territories without external aid even a day.
"After all, we do not talk every day about how many weapons are supplied from Russia to Armenia. We do not talk about the fact that Armenia would not have lasted a day in the occupied territories without external assistance. Political support, military support, moral support – all this comes from countries that are supposed to stay neutral," he said.
--
Follow us on Twitter @AzerNewsAz