World Robot Olympics to be held in Azerbaijan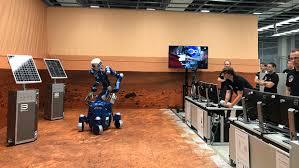 By Naila Huseynli
The next round of the World Robot Olympics will be held in Baku on October 5-7.
The Ministry of Youth and Sports informed that the winner of the selection round will be eligible to represent the country at the final stage of the World Robot Olympics in Thailand on November 16-18, Azertag reported.
More than 70 teams from more than 30 educational institutions are expected to compete in the selection race. Young people who wish to take part in competition can register on wro-azerbaijan.az through completing an application form.
Registration deadline expires on September 22.
The world's largest robotics competition, the World Robot Olympics, is held every year on different topics in different countries since 2004. For the first time, 12 countries participated in Olympics held in Singapore, now the number of participating countries exceeds 70.
The first selection competition of the World Robot Olympics in Azerbaijan was held on 7 October, 2017 by the support of Ministry of Youth and Sport, Azerbaijan Robotics Engineering Academy, and the Youth Education, Training, Vocational and Development Center Public Union. Moreover, 22 teams from eight educational institutions participated in this competition. The winning teams acquired the right to represent Azerbaijan at the World Robotics Olympiad in Costa Rica on November 10-12, 2017. Thus, for the first time Azerbaijan was represented in the final of the World Robot Olympics.
Despite being represented for the first time in the Olympics, Azerbaijan ranks 17th among 71 countries.
Azerbaijan was admitted to full membership of the World Robot Olympics at the end of 2017.
---
Follow us on Twitter @AzerNewsAz