9 August 2018 17:00 (UTC+04:00)
1 896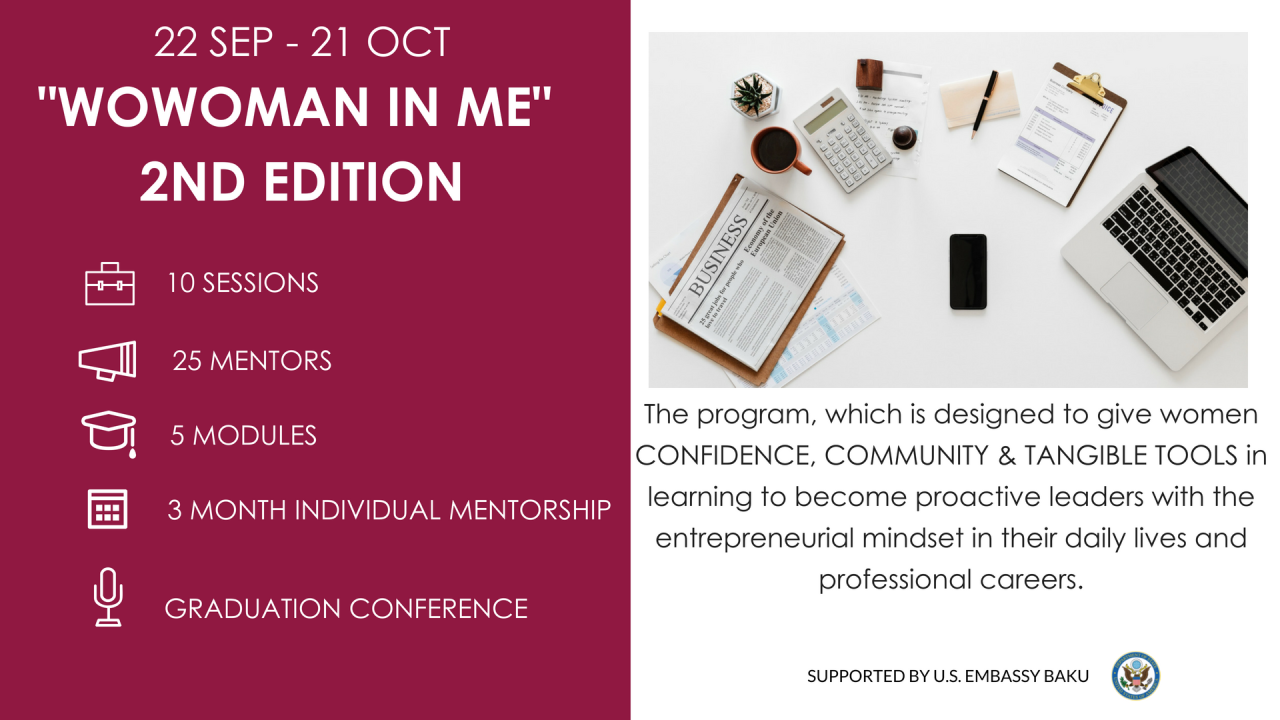 Dear Ladies and Gentlemen,
Please welcome the 2nd edition of our already famous and the biggest program "WoWoman in Me" 2nd edition, supported by US Embassy.
WoWoman is a women empowerment platform, which creates space and tools for women to be able to achieve the coolest, craziest and the most "impossible" dreams they have.
"WoWoman in Me" is a unique program, which is designed to give women confidence, community & tangible tools in learning to become proactive leaders with the entrepreneurial mindset in their daily lives and professional careers.
Learn all details and APPLY HERE: http://wowoman.org/wowomaninme2

Deadline for applications: 13th of August

Programm fee: FREE of charge

We will select participants on a rolling basis, this means that the faster you apply, more chances you have to get in.
Announcement of results will be after 13th August

Program description:
- 10 sessions

Each session will be delivered during weekends ( exact dates mentioned below ) on Saturday 5pm-8pm, Sunday 11am-2pm

- 25 mentors

Top local professionals will be devoting their time and energy to help you get to your goals

- 3 months individual mentorship

The individual post-program mentorship includes meetings with your mentor in person or online, to discuss how you are doing and which support do you need on your way

- 1 graduation conference

In early November we will have a closing conference to celebrate the graduation of the program

What to expect?

- Interactive sessions

Don't expect classic school style lectures, you will have to move and create a lot, get deep inside yourself and grow at every step

Tasks and Challenges

After each session, you will be given a set of individual and team tasks and challenges to accomplish throughout a week

Fun and new community

You will meet like-minded participants, you will be mentored by the best local professionals and you will have a lot of fun, including dance classes and much more ;)

1st Modul: Dream (22,23 September)
2nd Modul: Dare (29,30 September )
3th Modul: Grow (6,7 October)
4th Modul: Connect (13,14 October)
5th Modul: Inspire (20,21 October)

The program is built based on personal experiences from dozens of conferences, events, and trainings, including from Harvard, Stanford, MIT Universities, University of Massachusetts, TED conferences, AIESEC, Arc and many others.

Who is this program for?

Students or/and in the early professional careers

Intermediate and higher level of English

Willing to get out of their comfort zones and go for their dreams full force

Requirement:

You have to be present on all of the sessions, to finish the program. The competition is very strong, so if you won't be in the city for any of the dates, please do not apply.

Cost of travel to Baku for 10 women from regions of Azerbaijan, will be covered!

Please read more and apply here: http://wowoman.org/wowomaninme2

If you have any questions, don't hesitate to contact Gultan Asgarli +994707082268

Location: Af Business House 203 Nizami St, Baku AZ1010
---
Follow us on Twitter @AzerNewsAz