19 April 2018 12:03 (UTC+04:00)
2 724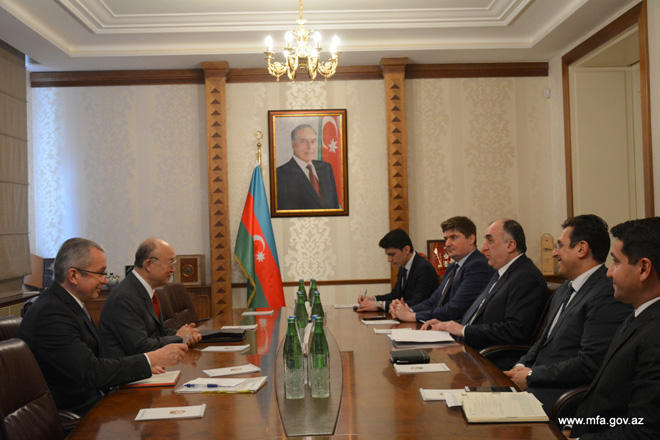 By Rashid Shirinov
Operation of the Metsamor nuclear power plant in Armenia which continues to use the old Chornobyl technology endangers the region with potential nuclear risks and threats, Azerbaijan's Acting Foreign Minister Elmar Mammadyarov said on April 18.
He made the remarks at the meeting with Yukiya Amano, Director General of the International Atomic Energy Agency (IAEA) in Baku.
Saying that Metsamor NPP of Armenia remains source for illegal smuggling of nuclear and radioactive materials, Mammadyarov stressed the importance of taking necessary measures by IAEA in this regard in line with the nuclear security concept.
The construction of the Metsamor NPP started in 1970. The plant was shut down after a devastating earthquake of 1988 in the town of Spitak. However, in 1995, despite numerous protests of international community, the Armenian government resumed the operation of the NPP, and moreover, the second reactor was launched.
A number of international experts have repeatedly urged that due to its deplorable state, the Armenian Metsamor NPP could repeat the fate of the Chernobyl NPP, thus threatening the lives of the Armenians and inhabitants of the adjacent countries. The possible tragedy will also jeopardize the environmental state of the region. Moreover, its consequences will be felt in Europe and the Middle East.
During the meeting, Mammadyarov also expressed satisfaction with fruitful cooperation established between Azerbaijan and IAEA and noted that Azerbaijan highly appreciates the work and support of IAEA.
The sides emphasized the importance of the completed 22 and 9 ongoing projects in Azerbaijan within the framework of the Technical Cooperation Program with IAEA. They stressed that these projects are important for capacity building of relevant institutions.
In addition, the acting FM highly appreciated the IAEA's support for establishment and operation of National Research Reactor of Azerbaijan and training provided for Azerbaijani experts. Touching upon the peaceful use of nuclear technology the sides exchanged views on prospects of cooperation in health, agriculture and oil industry.
They also discussed issues of international nuclear security, use of nuclear technology for peaceful purposes and other issues of mutual interest.
The International Atomic Energy Agency, which was established as an autonomous organization on 29 July 1957, is the world's central intergovernmental forum for scientific and technical co-operation in the nuclear field. It works for the safe, secure and peaceful uses of nuclear science and technology, contributing to international peace and security and the United Nations' Sustainable Development Goals. IAEA is generally described as having three main missions: peaceful uses, safeguards and nuclear safety.
---
Rashid Shirinov is AzerNews' staff journalist, follow him on Twitter: @RashidShirinov
Follow us on Twitter @AzerNewsAz
Related News