Volcano erupts in Baku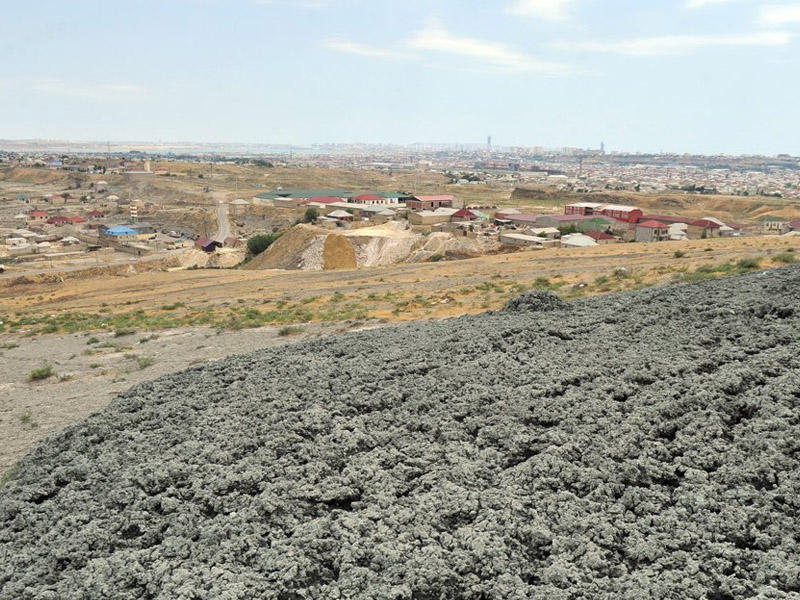 By Laman Ismayilova
The "Ayrantokan" mud volcano in Baku's Garadagh district erupted on March 29 at around 21:10.
The eruption lasted up to seven minutes and was accompanied by flames, which reached a height of about 100-150 meters above the volcanic crater.
The eruption covers an area of up to 2 hectares and varies from 0.3 to 1.2 meters in thickness.
There are no settlements around the mud volcano. Radial cracks have formed in the volcanic area.
At present, experts of the Ministry of Ecology and Natural Resources are studying the eruption and its consequences. They are carrying out relevant monitoring.
The "Ayrantokan" mud volcano is part of the mud volcanoes group of the Baku and Absheron peninsula in Azerbaijan.
The first eruption took place in October 1964, while the last eruption was observed in 2008. The mud volcano belongs to the State Nature Reserve.
Earlier, the Toraghay mud volcano erupted in Garadagh district of Baku on March 1.
The Ministry of Ecology and Natural Resources informed that there are no residential areas in the vicinity of the volcano.
Over a thousand mud volcanoes are known to exist in the world, and some 400 are located in the coastal area of Azerbaijan and the Caspian Sea.
The world's largest mud volcanoes - Boyuk Khanizadagh and Turaghai - are both in Azerbaijan. Boyuk Khanizadagh, the diameter and height of which are 10 kilometers and 700 meters respectively, erupted on October 10, 2001, shooting out flames 300 meters in the air. It was the highest record for flames shot from a mud volcano.
Mud volcanoes are a fairly widespread geological phenomenon. The dissemination of mud volcanoes usually indicates the existence of large oil and gas basins, so the large number of mud volcanoes in Azerbaijan reaffirms its richness and attracts the attention of scientists from all over the world.
Azerbaijan's rich fields of oil and gas condensate such as Lokbatan, Garadagh, Oil Rocks, and Mishovdag were discovered near mud volcanoes.
The lava, mud, and liquid spewed by mud volcanoes are used as raw materials for chemical and construction industries, as well as pharmacology.
---
Laman Ismayilova is AzerNews' staff journalist, follow her on Twitter: @Lam_Ismayilova