Ilham Aliyev: Azerbaijan supports consistent settlement of Palestinian-Israeli conflict by peaceful means [UPDATE]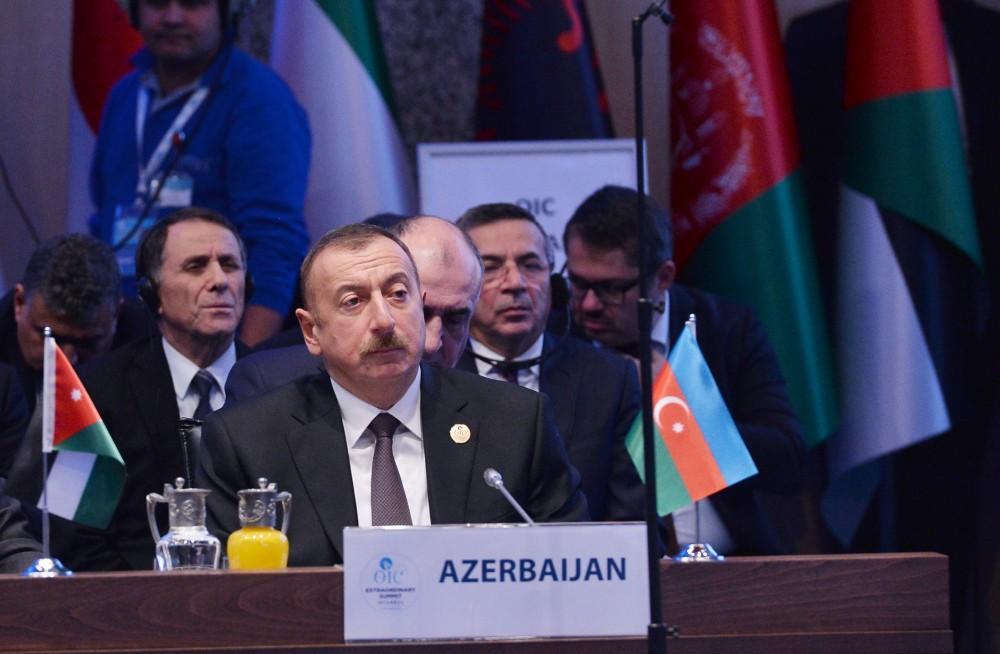 By Trend
The decision of the US President to recognize Jerusalem as the capital of Israel, which is contrary to international law and the UN Security Council resolution, and the transfer of the US embassy to this city causes great concern.
President of Azerbaijan Ilham Aliyev made the remarks at the extraordinary summit of the Organization of Islamic Cooperation (OIC) in Istanbul on Dec.13.
"This decision could negatively affect the just and comprehensive settlement of the Palestinian-Israeli conflict, lead to dangerous consequences in the Middle East. We believe that the US should reconsider this decision," President Aliyev said.
President Aliyev said Azerbaijan supports the consistent settlement of the Palestinian-Israeli conflict by peaceful means on the basis of two-state principles with recognition of East Jerusalem as the capital of Palestine.
"Several years ago, with the aim of assisting the Palestinian state, Azerbaijan held a donor conference in support of the founding conference of the Islamic Financial Security and Development Network of the City of Jerusalem. An international conference on the Jerusalem issue was held in July 2017 in Azerbaijan with the participation of the Committee on the Exercise of the Inalienable Rights of the Palestinian People, the Office for the Coordination of Humanitarian Affairs of the United Nations, OIC and various non-governmental organizations and civil society organizations. A declaration was adopted at the conference condemning the occupation of East Jerusalem and the restrictions that was imposed on those who perform worship services in the Al-Aqsa Mosque. As always, we stand next to the people of Palestine today," said the President.
---
Follow us on Twitter @AzerNewsAz