"Acts of genocide against Turkic-Muslim peoples in 20th century" conference held in Lankaran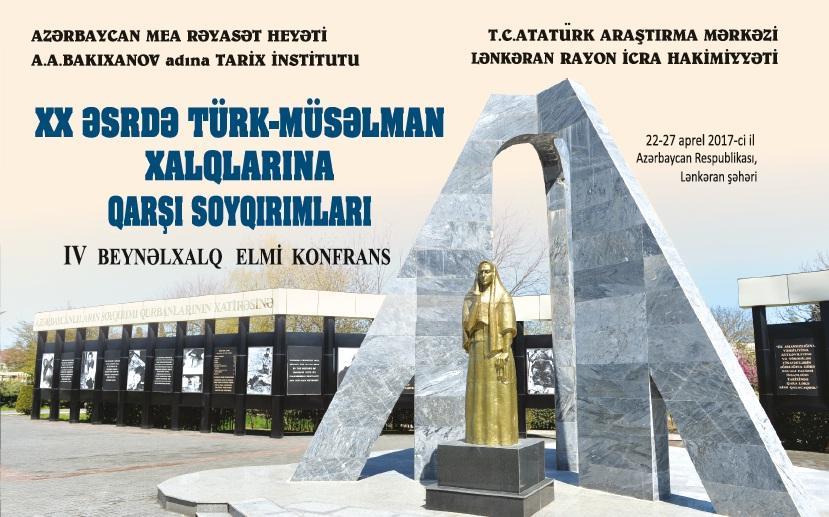 By Rashid Shirinov
The 4th international scientific conference "Acts of genocide against the Turkic-Muslim peoples in the 20th century" was held in Lankaran on April 24.
Researchers from various countries participated in the conference.
Director of the Institute of History, MP Yagub Mahmudov, addressing the event, stressed that the false Armenian propaganda must be prevented.
"Today, the Azerbaijani scientists are concerned that the world community doesn't want to see the truth, therefore, their main goal is to convey to future generations the real history of the people, prevent false Armenian propaganda and inform the world community about the objective realities," he noted.
Mahmudov reminded that today the world is face to face with an extremely complex and dangerous confrontation.
"The whole region of the Near and Middle East, including the South Caucasus, is covered by mass killings, terror and armed confrontation. Fascism, racism and Islamophobia have again showed up in Europe," the Institute Director noted.
He added that under the pretext of principles of 'human rights', 'democracy', 'protection of international law' and 'fight against terror' the international centers of power are fighting to re-divide the world into spheres of influence.
Welcoming the participants of the international conference on behalf of the President and Presidium of Azerbaijan National Academy of Sciences (ANAS), academician-secretary of the Department of Social Sciences, corresponding member of ANAS Nargiz Akhundova noted that the international scientific conference held for the fourth time is an important step aimed at recognition of genocides against the Turkic-Muslim peoples.
Scientists from Turkey and Russia also delivered speeches at the plenary session.
Moreover, reports of about 60 foreign scientists were presented at the intermediate meetings, including those of researchers from Germany, Albania, Poland, Turkey, Georgia, Uzbekistan, Kazakhstan, Kyrgyzstan, India, Russia and other countries.
In addition, the atrocities of genocide committed by the Armenian-Dashnak executioners in Lankaran in 1918-1919 were widely discussed at a separate meeting.
---
Rashid Shirinov is AzerNews' staff journalist, follow him on Twitter: @RashidShirinov
Follow us on Twitter @AzerNewsAz