FM Mammadyarov: Negotiations suspended with Armenia on Karabakh settlement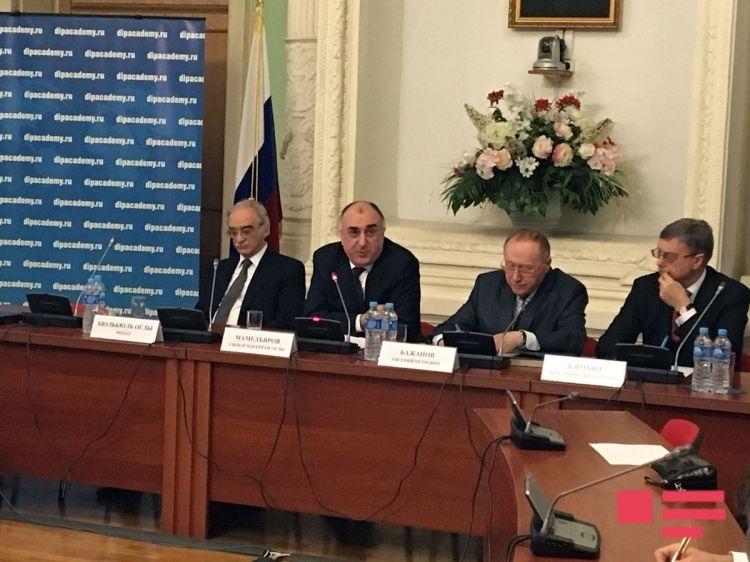 By Rashid Shirinov
The negotiations with Armenia on the settlement of the Nagorno-Karabakh conflict have been suspended, Azerbaijan's Foreign Minister Elmar Mammadyarov said addressing the Russian Foreign Ministry's Diplomatic Academy on March 7.
He said that the Armenian side does not intend to negotiate: "We proposed to continue substantive negotiations, but the Armenian side did not go for it."
Mammadyarov noted that the parliamentary election will be held in Armenia on April 2, and Azerbaijan has also offered to continue the negotiations after this date.
He stressed that the settlement of the Nagorno-Karabakh conflict is the main priority of Azerbaijan's foreign policy. He added that the failure to resolve the conflict is a major obstacle to the development of the region.
"Azerbaijan and Armenia have been face-to-face with this problem for about 30 years. Yesterday, Russian Foreign Minister Sergei Lavrov and I discussed ways to settle the Nagorno-Karabakh conflict," said Mammadyarov adding that the presidents of Azerbaijan and Russia also discuss this issue at their meetings.
He urged Armenia to demonstrate political will for the settlement of the conflict.
"Those involved in the settlement of this conflict are well aware what the main problem is. First of all, for the resolution of the conflict, Armenia must withdraw its troops from the occupied territories, and the security of the region should be ensured," said Mammadyarov.
After this, Azerbaijani IDPs must return to their native lands, and communications and railway lines should be restored there: "All this will contribute to the economic development of the region."
Following that, the status of Nagorno-Karabakh should be considered, said Mammadyarov.
"We also discussed these issues at yesterday's meeting with Lavrov. The major step is the return of Armenian servicemen in their barracks. All these issues will be resolved consistently," he said.
Touching upon the tension on the contact line between the Armenian and Azerbaijani troops, Mammadyarov said that the Azerbaijani side agrees to the monitoring to investigate incidents on the contact line of troops.
"They offer to conduct a monitoring on investigation of incidents on the contact line of troops and we agree to this. However, it should be an integral part of a big plan. It should be done after the withdrawal of Armenian troops from the occupied lands," Mammadyarov stressed.
He added that the illegal presence of Armenian troops in the occupied territories of Azerbaijan is the main cause of the incidents.
Armenia broke out a lengthy war against Azerbaijan laying territorial claims on its South Caucasus neighbor. Since a war in the early 1990s, Armenian armed forces have occupied 20 percent of Azerbaijan's territory, including Nagorno-Karabakh and seven surrounding regions. More than 20,000 Azerbaijanis were killed and over 1 million were displaced as a result of the large-scale hostilities.
Armenia has not yet implemented four UN Security Council resolutions on withdrawal of its armed forces from the Nagorno-Karabakh and surrounding districts.
---
Rashid Shirinov is AzerNews' staff journalist, follow him on Twitter: @RashidShirinov
Follow us on Twitter @AzerNewsAz