26 September 2014 11:54 (UTC+04:00)
1 854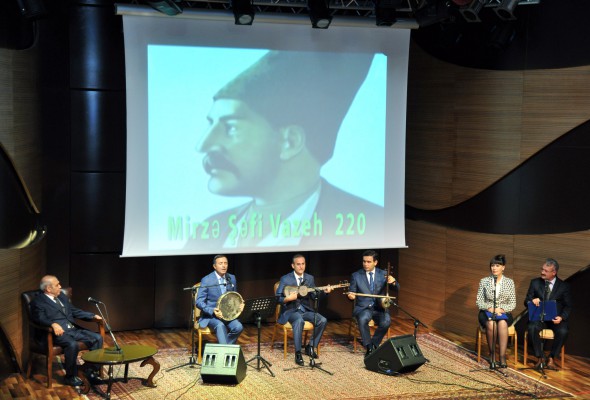 By Amina Nazarli
The International Mugam Center in Baku hosted an event marking the 220th birthday anniversary of great Azerbaijani poet Mirza Shafi Vazeh on September 24.
The event organized by Culture and Tourism Ministry brought together many Azerbaijani influential people.
Addressing the event, Deputy Minister of Culture and Tourism, Vagif Aliyev spoke about the poet's life and creativity. He talked about the Azerbaijani sapient who contributed to the development of Azerbaijan's classical poetry.

Vazeh was a classical bilingual Azerbaijani poet, who wrote both in Azerbaijani and Persian. Literary heritage of Mirza Shafi Vazeh has reached us through translations.His original poems were lost.
Secretary of the Writers Union Ilgar Fahmi also talked about the Vazeh's impact on Azerbaijani literature.

Fahmi highlighted the literary society "Divani-Hikmat" organized by Mirza Shafi in Ganja in 1844, which brought together many poets from Russia, Georgia and many other foreign countries.
After the publication of the German scientist Friedrich Bodenshtedt's book "Melodies of Mirza Shafi" Vazeh gained immense fame in Europe.
Professor of Azerbaijan Language University Fahraddin Veyselli touched upon the relations between Azerbaijani poet and German writer Friedrich Bodenshtedt.
Teaching in one of the school on Tiflis, Vazeh got acquainted with Bodenshtedt who later played a major role in the life of the poet.
Having grasped the spirit of eastern poetry, its subtleties and features, Friedrich fell in love with Shafi's creativity. When Bodenshtedt left Tiflis, Shafi gave him a notebook of his poems as a gift, which later the German writer included in his book, called "1001 day in the East". His verses have been translated into nearly all European languages.
Professor Veyselli stressed the importance of studying the heritage of the freedom-loving and free-thinking educator, who dedicated his life to creativity, just a small part of which has miraculously survived to the present days.
During the event, the poetry lovers enjoyed the poet's selected poems and gazelles.
People's Artist Mansum Ibrahimov's awesome performs were welcomed by great applause.
Related News