1 August 2014 16:19 (UTC+04:00)
2 060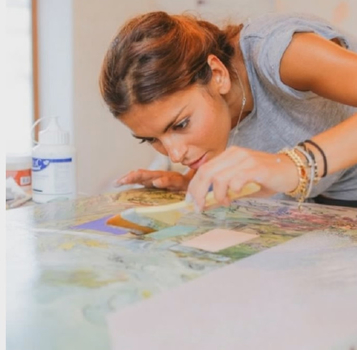 By Nigar Orujova
Aida Mahmudova, the founder of "YARAT" Contemporary Art Space, has been included in the list of the eight most influential women in Central Asian and Caucasian art, leading art and cultural websites theculturetrip.com reported.
The article said the world's largest contemporary art event, the Venice Biennale, has welcomed a Central Asian pavilion since 2005. However, despite the success of these exhibitions, Central Asia's art and artists remain relatively unknown.
Along with Aida Mahmudova, the list includes Mila Askarova, founder and director of London's Gazelli Art House, artists Aza Shade, Almagul Menlibayeva, Annya Sand, Sara Raza, Gayane Umerova and Natalya Dyu.
The website presents information about Aida Mahmudova's art programs: "Not content with being a prominent artist, 32-year-old Aida Mahmudova is also one of Azerbaijan's most important contemporary art movers and shakers.
"In 2011, she founded YARAT, the country's best-known non-profit art space, the aim of which, says Mahmudova, is to support Azerbaijani artists and to identify international platforms with which these artists can work. Master classes, UK-Azerbaijan exchange programs, solo and group exhibitions all contribute to the development of the country's art scene."
The website went on saying since her first European solo show in 2013, Mahmudova herself has continued to make work that meshes various media, reflecting on modern Azerbaijan through a wash of nostalgia.
"As the niece of the current First Lady of Azerbaijan, Mahmudova splits her time between Baku and London, sparking connections between Central Asia and the international commercial art scene," the article said.
YARAT is a non-profit organization dedicated to nurturing an understanding of contemporary art in Azerbaijan and creating a platform for Azerbaijani art, both nationally and internationally.
Based in Baku, YARAT ("create" in Azerbaijani) realizes its mission through an ongoing program of exhibitions, education events, and festivals. The organization facilitates dialogue and exchange between local and international artistic networks, including foundations, galleries, and museums.
Related News