Kitaro holds fancy concert in Baku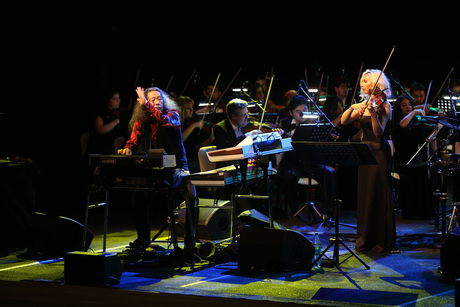 By Nigar Orujova
Kitaro, world-renowned Japanese recording artist, composer, musician, arranger, and winner of a Grammy and a Golden Globe Award, gave a solo concert at the Heydar Aliyev Center in Baku.
An idol for millions during his 30-year career in music, Kitaro performed his fabulous repertoire accompanied by Azerbaijan State Chamber Orchestra named after Gara Garayev.
"Thank you very much for coming to the concert! We will share our music with you, and you share your emotions with us. We are very pleased to be in Baku, Azerbaijan, and perform with great musicians and a remarkable symphony orchestra. Please enjoy our music," Kitaro said before the concert.
Each of his compositions is special, distinguished from all the others by an individual selection of sounds and at the same time united with the single theme, which is love.
Kitaro, a pioneer in New Age genre and known for blending folk music with electronic instruments, created a special futuristic mood at the concert using ethnic motifs, mixing East and West, performing classical, acoustic, and electronic instruments, and colorful video installations.
After the concert, which was accompanied by repeated applauses, Kitaro shared his impression of the city.
"It is not my first visit to Baku. I was here while travelling through the countries of Central Asia to the Black Sea... During my stay in Baku, I have been the guest of several families... Azerbaijan is a familiar country for me, despite the passage of years," he said.
Baku has significantly changed and a grand building is built, but people are still the same, good-natured and hospitable, Kitaro added.
"I was struck by the magical architecture and design of the Heydar Aliyev Center, and I consider its concert hall the best in the world," he said, also praising the skillful Azerbaijani musicians.
Kitaro, who has voluntarily put aside modern mass culture and did not have musical education, said his positivity comes from music.
"My aim is to transform the energy of music from the cosmic space through my body and bring it to the listener. I've never had musical education, and have learned to trust my ears and senses," he said.
Kitaro, which means "man of joy and love", is the stage name of Masanori Takahashi, who was born in Japan in 1953. Lacking formal education in music, Kitaro succeeded in mastering the peculiarities of musical art on his own, playing guitar, flute, drums, as well as a number of other instruments.
He is also recognized as a film director and photographer.
Moreover, Kitaro was the light designer in a number of his concerts, as well as the arranger of a number of his albums.