7 March 2014 09:42 (UTC+04:00)
2 304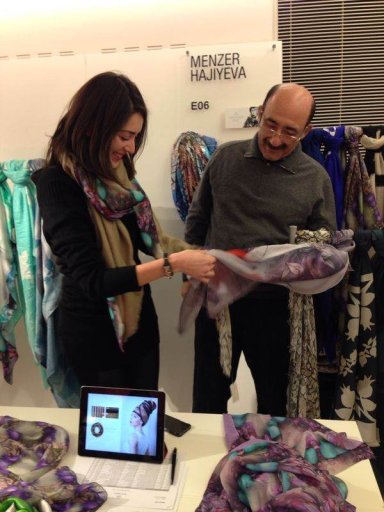 By Nazrin Gadimova
Azerbaijan is participating for the first time in the world exhibition of industrial design.
The exhibition is being held within the framework of Paris Fashion Week.
Country's Culture and Tourism Minister Abulfaz Garayev visited the exhibition during his visit to France, the ministry told Trend Life.
The minister visited Azerbaijan's exhibition stand and got acquainted with the work of Azerbaijani designer Menzer Hajiyeva.
Visitors were especially interested in silk products, particularly kelagayi, Azerbaijan's national headscarf for women. Visitors were given information about the history of the kelagayi.
Kelagayi, made from fine and soft silk, was always an integral part of women's national costume in Azerbaijan. Silk kelagayi protected them from both the hot sun and the cold wind, because silk is cool in summer and warm in winter.
Being a symbol of beauty, grace, and honor and a special and valuable present for a girl who was getting married, kelagayi was traditionally square-shaped. Particular colors of this headscarf were associated with a particular event; thus, if there was a funeral, women usually wore dark kelagayis, while a bride would wear a bright red scarf for her wedding, with her face covered.
This beautiful element of Azerbaijani national costume has been produced in Azerbaijani cities such as Ganja, Shamakhi, Sheki, and Nakhchivan, as well as the Basqal settlement of the Ismayilli region, since ancient times.
It may sound ironic, but this element of women's costume is made exclusively by men, because woman simply can not do such hard work. Masters deal with boiling paint, heavy stencils, and other time-consuming processes.
The pattern is applied on the fabric using special signets - galibs. There is a great variety of patterns, each of them symbolizing something. Most of them have mythological roots and come from ancient times, but the national ornament "buta" is often applied on kelagais.
The work done for the inclusion of "the art and symbolism of Azerbaijani kelagayi" in the intangible cultural heritage list by UNESCO is a graphic example of the attention the Azerbaijani state pays to ancient folk art and national heritage.
Paris Fashion Week is considered the most important fashion week around the world, because it has a rich history and old fashion houses, where the most famous designers show their collections. The show, which is being held in the heart of the fashion world, is arguably the greatest event in the world of fashion and is highly appreciated by the most sophisticated audience.
Related News