29 November 2013 18:36 (UTC+04:00)
1 600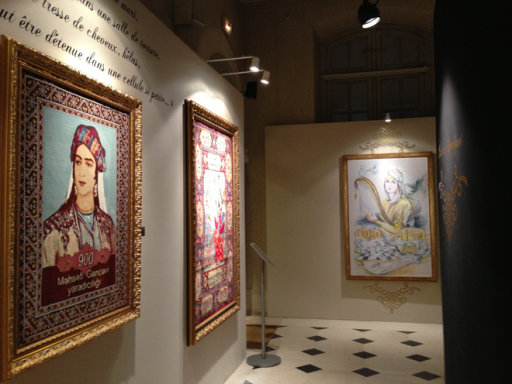 By Nigar Orujova
An exhibition devoted to the 900th anniversary of Azerbaijani poetess Mahsati Ganjavi was held in the Palace of Tau in Reims, France, on November 28.
The exhibition was organized by the Heydar Aliyev Foundation and Azerbaijan's Embassy in France.
Female clothes worn at Mahsati Ganjavi's era, illustrations of the poetess's works on carpets, ancient coins, samples of coppersmithery and pottery, china wares, and other exhibits were displayed at the exhibition.
Opening the exhibition, the Palace administrator Benoit-Henry Papounaud spoke about the significance of such events in terms of people of different cultures knowing each other more closely and also receiving information about Azerbaijan.
He said the exhibits demonstrated the old and rich culture of Azerbaijan.
Deputy Mayor of the city of Reims Jacques Cohen said he took delight in Azerbaijan's first participation in an international fair organized in the city, adding that masters of art from Azerbaijan will perform at the Reims Conservatoire as part of the events held in the city in connection with Mahsati Ganjavi's jubilee.
The exhibits displayed at the exhibition will give a chance to city residents to have an idea of Azerbaijan as an ancient country, rich in cultural treasures, Cohen said.
Chairperson of the Champagne-Ardenne Regional Council Jean-Paul Bachy said Azerbaijan was located at the crossroads of two continents and different countries and shared borders with Muslim countries, where ancient civilizations met with its unique customs and traditions.
Bringing to attention that Azerbaijan was rich in subsoil resources, especially oil and gas, Bachy said Baku and Ganja, the largest cities of Azerbaijan, have recently taken on a modern look, and the Reims University was interested in strengthening relations with the State University of Ganja.
Recalling his participation in an international wine festival in Ganja, Bachy said the Champagne region was famous for its wine all over the world, and he was interested in having a joint business with the city of Ganja in this regard.
He also said cooperation on tourism was of key importance, because this sector offers great opportunities.
He noted that Mahsati Ganjavi, who had lived in Ganja, was famous not only as an author of rubaiyats praising her homeland, but also as a performer of lyrical romances.
Adviser to the Ambassador of Azerbaijan to France Nigar Huseynova also noted that Mahsati Ganjavi who was known as a poetess, writer, artist and master of calligraphy in the 12th century, lived in Ganja, one of the cultural hubs of the Oriental Renaissance.
Huseynova mentioned that Nizami Ganjavi, another master of words who has enriched the world of literature with his works, was also born in this city.
Huseynova said human ideas such as equality, brotherhood, and freedom were praised in Mahsati Ganjavi's works, adding that the poetess had also played an active part in society, organized literature circles, and gathered young girls around her, and although 900 years have passed since the time she was born, her ideas have so far maintained their relevance.
She emphasized that works by Mahsati Ganjavi have been translated into different languages, adding that the poetess was celebrated at UNESCO and the Embassy following the initiative of Mehriban Aliyeva, the President of the Heydar Aliyev Foundation.
Head of the Executive Authority of Ganja Elmar Valiyev said in addition to being the second largest city of Azerbaijan, Ganja is also an ancient culture and art hub, and it has given geniuses like Nizami Ganjavi and Mahsati Ganjavi to the world of literature.
Valiyev said the Heydar Aliyev Foundation has implemented significant projects for promoting Azerbaijan's cultural treasures in France.
Recalling that a grandiose event devoted to Azerbaijan was held last year in Reims with the participation of Mehriban Aliyeva, Valiyev underscored the significance of developing cooperation between the two countries.
Vice-president of the Reims University Professor Nureddin Manamanni said they were interested in building relations and bilateral cooperation, and exchanging students with the Ganja State University.
Related News