Azerbaijani mugham ensemble to perform at Eurasia festival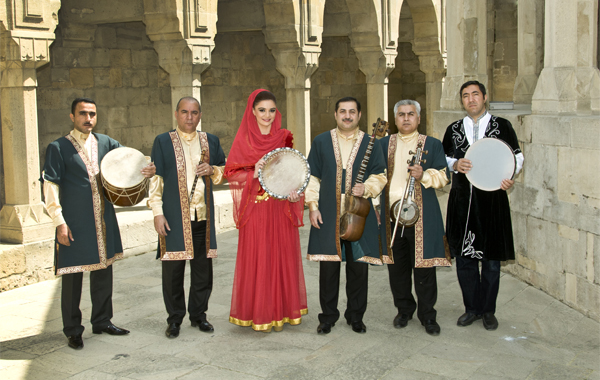 By Nigar Orujova
An Azerbaijani mugham (folk music) ensemble will take part at the second "Eurasia" International Music Festival in Russia, the festival's website said.
The mugham, whose roots go far back into history, is a pearl of Azerbaijani musical art and is frequently applied music among singers and bands all over the world.
The music festival is being held in Yekaterinburg, Russia on October 4-16. Azerbaijani musicians will perform at the Sverdlovsk State Academic Philharmonic Hall on October 12.
The mentioned ensemble is a unique creative team consisting of six soloists playing national Azerbaijani instruments. The ensemble represents the unique Azerbaijani music culture, preserving traditions of national culture and the sounding of ancient national instruments.
The concert includes traditional Azerbaijani music, folk songs and national dance tunes.
The ensemble consists of tar performer Alekper Alekperov, winner of international competitions and festivals, vocalist Arzu Aliyeva, soloist of the Azerbaijan State Academic Opera and Ballet Theatre, vocalist Ehtiram Huseynov, Master of Azerbaijani National Conservatory, naqqara player Ramin Abdullayev, participant of many international mugham competitions and festivals, balaban and zurna player Abuzer Gulaliyev.
Artistic director of the ensemble is Elshan Mansurov, an Azerbaijani honorary artist, associate professor of the Azerbaijan National Conservatory.
The festival, which was initiated and is being held by the Sverdlovsk State Philharmonic, is aimed to expand and further develop the creative relationship between musicians from Asia and Europe, to back up the meeting between the Orient and the Occident within the space of academic music.
The First Eurasian International Music Festival, which was held on September 6-24, 2011, brought together representatives of 20 countries demonstrating their talent in performing arts to some 9,600 people.
The festival participants included the Ural Academic Philharmonic Orchestra, the China National Symphony Orchestra, the Philharmonia of the Nations Symphony Orchestra and the Munich Chamber Orchestra.
Azerbaijan's traditional folk music, mugham, began to enter world cultural heritage at the beginning of the last century.
In 2003, UNESCO recognized mugham as a Masterpiece of Oral and Intangible Cultural Heritage of Humanity.
Vocal-instrumental varieties of such compositions are performed by a group of musicians, consisting of a singer - khanende, playing on a gaval (percussion instrument), and stringed musical instruments tar and kemancha.