Shafiga Akhundova - first female composer of East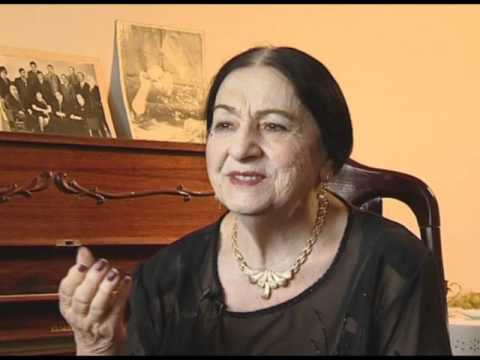 By Sara Rajabova
Shafiga Akhundova, the first professional female author of an opera in the East and a legend of the Azerbaijani music history, passed away on July 26 at the age of 89.
Akhundova, who succeeded in opening a magnificent page in the Azerbaijani music art, creating a myriad of beautiful and valuable works, was buried in the second Alley of Honor after a three-hour farewell ceremony on July 27.
She was a composer with a broad range of creativity and her works have played an important role in the education and upbringing of the new generation in Azerbaijan.
Akhundova, who was born on January 21, 1924 in Sheki, a magnificent and historical town of Azerbaijan, devoted almost 70 years of her life to the culture and art of her home country.
It is interesting that the date of birth of this prominent composer coincided with the date of death of the USSR leader Vladimir Lenin. Therefore, her mother was a bit disappointed that her daughter was born just on the same day. Because on that day everyone went to a rally and left the newborn baby and her mother alone.
But how could her mother know that her little girl would become an outstanding composer and people's favorite artist in the future?
Shafiga was a lucky person, because her mother Zuleykha and elder sister Zumrud always supported her in her choice. Her mother loved to play the accordion and the family enjoyed listening to her. Shafiga's sister also played an important role on her way to composing.
At an early age her musical talent was obvious to the family, and especially when little Shafiga played the piano she made miracles happen. Music became an integral part of her life.
However, during those times, it was unusual for a woman to be engaged in music and to be a singer or a composer. Most of the people didn't accept this due to the stereotypes that were widespread at the time.
Therefore, her father didn't want his daughter to be a musician and was very dissatisfied with her choice. According to Shafiga Akhundova, he wanted to see her as a doctor. Her father was a very serious man and was not so addicted to music. Although they had a piano at home, he always kept it locked to prevent little Shafiga from playing it. He even had hidden his wife's accordion in order to make Shafiga forget music. Listening to music and even saying the word "music" was forbidden in their family.
But despite her father's dissatisfaction and all the troubles she was determined in her choice and after finishing school she submitted documents to the Conservatory and was admitted. Her composing skills rose to a professional level.
When her father learned that Shafiga attended the Conservatory, he got angry with her and didn't let her come home. She even had to stay at her neighbors' place for a while.
Although she stayed out of home in snowy and cold weather because of her father's decision, the love for music wouldn't let Shafiga go back on her dream and she enriched her musical experience even more.
On this path, the first professional composer in the Azerbaijani music history, the one with outstanding personality, Uzeyir Hajibeyov, supported her. She was lucky to have had such a great and attentive teacher.
Shafiga said, "I realized that no one and nothing could keep me away from this work. I was born for this art. The presence of the great master, Uzeyir Hajibeyov, further increased my strength." She valued the acquaintance with this great composer as a precious gift of life.
Shafiga received her primary education at Baku Music School named after Asaf Zeynally, where she had been taught by Uzeyir Hajibeyov for eight years. Then, in 1956, she continued her education at Azerbaijan State Conservatory named after Uzeyir Hajibeyov, from which she graduated from the class of prominent composer Boris Zeydman.
Later the composer recalled: "Uzeyir Hajibeyov opened training courses within the Conservatory and three times a week he was giving us lessons. He either taught the fundamentals of the Azerbaijani folk music to young composers in the general group, or individually was engaged in the work we composed; also, we copied mughams to our notes. Uzeyir Hajibeyov invited the distinguished professor of the Leningrad University Zeydman to Baku in order to teach the classical rules of the composing art more thoroughly. We learned the secrets of composing from this great master."
Remarkably, Shafiga Akhundova was a worthy successor of great composer Uzeyir Hajibeyov.
In 1972, Akhundova composed her first opera, "Galin gayasi" (Bride's Rock), and became the first female composer in the East. This opera's combination of the classical music with the oral traditional classical mugham confirms the preservation of the composing style of Uzeyir Hajibeyov and shows her unique talent and musical skill.
Many prominent musicians expressed positive opinions about this opera. Also, the performance of this opera won the acclaim of the people and brought great success to its author.
Akhundova is also the author of the wonderful songs "Leyla", "Happy Land", the operetta "Our home, our secret" (1965), pieces for a string quartet, the dramatic plays "Aydin", "Farewell to India!", "What do you live for?", etc. and music for children's plays such as "A tale of a clown", "Birthday of a rabbit", etc. She is the author of more than 600 works and composed music for more than 30 spectacles staged in state theaters.
Akhundova could attain the peak of music art and succeed as a musician, but unfortunately she was an unhappy mother. She lost her only son prematurely and in her elderly years was still grieving for him.
Her son, Taleh Hajiyev, was also a musician, a talented pianist and composer. He composed a number of songs, which could become quite popular and live on in the hearts of people.
Despite her grief and health problems, at the age of almost 90 she was full of love for life and continued to write beautiful songs with the enthusiasm of a young creative person.
Music was a source of vital energy for her, it was her true love and true world. Shafiga Akhundova always wrote only about what touched her heart and expressed the highest human feelings. Therefore, her music remains the best for many artists to this day.
Her compositions were performed by the outstanding Azerbaijani singers of the time, who perceived her music as a gift and fell in love with them once and for all. Her works were also very famous in foreign countries, such as Turkey, Central Asian states, and were lovingly performed abroad.
Shafiga Akhundova had a unique personality, she was a kind and straightforward person, and her pure soul was open to everyone. She became a lovely composer of the Azerbaijani people with her beautiful music and rare personality and will always hold a special place in the hearts of the Azerbaijani people.
Akhundova has been awarded by the government for her merits. In 1998, Akhundova was conferred the title of People's Artist of Azerbaijan and in 2005 she received the Shohrat (Glory) Order.
May her soul rest in peace!