28 November 2012 09:52 (UTC+04:00)
2 187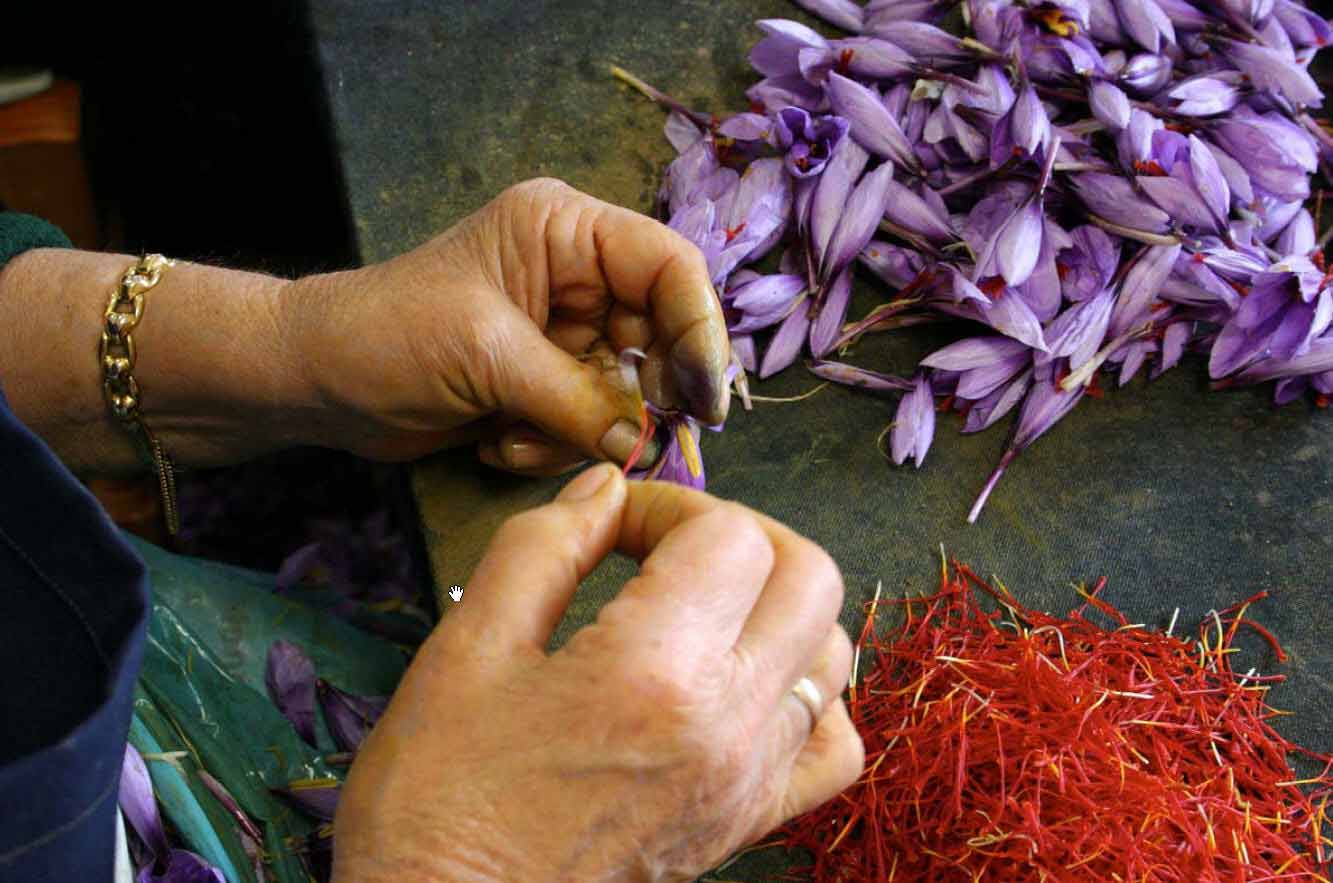 By Seymur Aliyev
The king of spice, the spice of kings, saffron, is the most valuable flavoring in the world. It is the only spice whose price has remained very high for thousands of years. For over 4,000 years, the value of saffron has been equated to gold.
At the moment, 1 kg of quality saffron costs about $11,000 in retail outlets.
The high price of the spice is due to two reasons - very labor-intensive industry and a huge number of useful properties.
Saffron is made only from Crocus stigmas. To obtain just 1 gram of this spice, one needs about 100 flowers, which are to be picked strictly from 10 am to 11 am, by hand and in dry weather. About 14,000 flowers are required to produce merely an ounce of saffron spice. Flowers of this plant bloom only two to three days per year.
Saffron is famous for its useful properties, it brings a healthy glow to the body. It is a nourishing purifier that invigorates and moves the blood while cooling it. Saffron breaks up blood clots and clears liver stagnation. These circulatory properties make saffron a useful herb for pitta disorders with blood stagnation, including inflammation, arthritis, acne, and hepatitis. It improves eyesight and enhances digestion. Saffron's ability to dilate the blood vessels can stimulate the menses, encourage sweating and opening of the pores. Saffron is also a cardiotonic that destroys phlegm, and a purifying diuretic for urinary disorders.
Saffron is mixed with honey for urinary stones, with milk as a galactagogue for women, with ghee for people suffering from diabetes, etc. For febrile diseases, the recommended dosage of saffron is 1.5 to 3 grams of dried herb, usually taken as a decoction.
The most quality sort of this spice is grown in Azerbaijan, more precisely, in Bilgah, a settlement near the capital Baku.
Also, it can be grown in Shamakhi region and Gobustan area. Before 1917, the sowing areas under saffron amounted to 150 hectares, and saffron export put Azerbaijan in a significant place in world markets.
Azerbaijani people very often use saffron in their cuisine. Most of dishes served on holidays are cooked with this spice. The spice makes dishes refined and unrepeatable. Any pilaf can be delicate with use of just a few drops of this precious spice.
Azerbaijan is one of the oldest centers of saffron (Crocus sativus) in the world. According to written accounts, saffron was cultivated in some regions of Azerbaijan more than a thousand years ago, the practice having been introduced from Asia Minor and Persia. However, a more precise time of the appearance of saffron cultivation in Azerbaijan has not been determined. Saffron sprouts have been found on the foothills of the Greater Caucasus Mountain range in Azerbaijan.
Wild saffron has been popular from time immemorial. It is mentioned in Egyptian papyruses, in Solomon's, Homer's and Hippocrates' books. It is known that the yellow shoes of Medes, Babylon, Persia kings, were stained with saffron and under the rule of these kings saffron was also known as a medical plant.
At the time of the Roman Empire, saffron from Asia Minor and Central Asia was introduced to Spain, and from there to the south of France. After the crusades, its cultivation began in Germany, Austria and Moravia. However, saffron cultivated in northern regions has lower quality compared to that grown in areas similar to its native land.
The best saffron, possessing the most powerful aroma, is cultivated in Azerbaijan.
In the Middle Ages one pound of saffron could be exchanged for a thoroughbred Arabian horse.
The legend goes that during his excursions into Asia, Alexander the Great began to use saffron in his bath, believing it would heal the wounds sustained in battles. As the saffron baths appeared to aid the healing process, he recommended the treatment to his soldiers. They were so impressed with the spice's healing properties that they continued taking saffron baths after returning to Macedonia.
The word "saffron" is derived from the word "azafran", which translated from Arabic means "yellow". The first information about this plant is found in Mesopotamia 3,000 years before Christ. Originally, the spice was used as a dye. In the 10th century BCE, the Persians used saffron threads for weaving fabrics, making essential oils and perfumes. The Chinese and the Romans noticed the healing properties of this plant and started using it as a medicine. Europeans regarded it a sign of high social status and wealth. As for Spaniards, they became the first nation who started growing and decided to cultivate this spice for exports. The high price of the spice is due to two reasons - very labor-intensive industry and a huge number of useful properties.
Related News