3 October 2012 14:30 (UTC+04:00)
695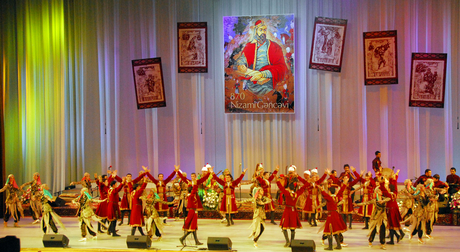 By Nigar Orujova
Nizami Ganjavi, a grand Azerbaijani poet and philosopher, is "a person of universal value", UNESCO Director-General Irina Bokova said in a statement over Ganjavi's anniversary.
"Nizami Ganjavi's 870th anniversary is a call for international dialog and UNESCO is proud of taking part in such an event," the statement said.
Bokova noted that Nizami's creations promote "a change in time flow" by means of knowledge and perfection, and inspire mankind to live in a worthy and fair society.
"Surely enough, Nizami's artistic heritage has great influence on the people of Azerbaijan, Middle Asia and other countries," she said. 'Let love into your soul' humanistic slogan is an inspiration for the time we live in. This slogan reflects the concept of UNESCO. In this connection, I welcome the efforts of Azerbaijan's government and Ganja city to monumentalize the artistic heritage and memory of Nizami," the UNESCO head said.
The poet's hometown of Ganja, Azerbaijan's second largest city, marked the 870th anniversary of the great Azerbaijani poet on September 29 and 30. The celebrations in Ganja were joined by distinguished foreign guests and government officials.
Preparations for the anniversary celebrations had started in Ganja after a relevant presidential decree was issued late in 2011. The poet's mausoleum and adjacent area were restored, a number of new alleys created, along with the Nizami Ganjavi Museum and the International Nizami Ganjavi Center.
Azerbaijani Deputy Prime Minister Elchin Afandiyev said in his speech, "...Nizami was born in Ganja, lived in Ganja and died there. Nevertheless, the measure of his art and talent is so immense that he became a son of humanity. Nizami is both a national poet and an international one."
As part of the celebrations, a number of literary and art performances based on Ganjavi's works were staged by Ganja State Theater actors, and a number of songs with lyrics based on Ganjavi's writings were performed.
On September 30, a complete reprinted version of "Hamsa" (five poems of Nizami Ganjavi) was presented in Ganja. Afterwards, a number of foreign scholars were awarded with the honorary titles of the Ganja State University and the Azerbaijan State Agriculture University.
It is worth mentioning that on the initiative of Azerbaijani First Lady, President of the Heydar Aliyev Foundation Mehriban Aliyeva, a monument to the great poet was erected this year in Rome, for the first time in Europe.
Events dedicated to the great Azerbaijani poet continued in the capital Baku on October 1.
Addressing the anniversary event, Director of the well-known Egyptian Library of Alexandria, Ismail Serageldin, permanent representative of Kazakhstan to UNESCO, Olzhas Suleimenov, prominent Azerbaijani writer Anar, Ganja mayor Elmar Valiyev, and Professor of the Italian Pontifical Oriental Institute, turkologist Michele Bernandini spoke about the significance of the poet's heritage.
Ganjavi's life and art
Nizami Ganjavi was a pen-name of the grand Azerbaijani poet and philosopher Ilyas Yusif oglu, who created in 1141-1209. He was born to a craftsman's family, received education in madrasah (a religious educational institution), and studied medieval sciences on his own. Nizami was also closely familiar with oral and written literature of the Near East.
Nizami never travelled out of Ganja, rejected serving as a palace poet and made an honest living. Around 1169/70 the ruler of Darband, Seyfaddin Muzaffar, sent Nizami a Kipchak slave-girl Afal, who became his wife and in 1174 gave birth to a boy named Muhammad.
Ganjavi started his creative endeavors with lyric poems. From his worksit is seen that he had written a large "divan", and was famous as an author of gazal and gassida (poetic forms) works. Nizami's lyric works stand out for high professionalism, secular attitude to love and humanist thoughts about a man's destiny.
However, Nizami entered world literature with ''Hamsa'', a pentalogue of five poems -- ''Treasury of Mysteries'', ''Khosrov and Shirin'', ''Leili and Mejnun'', ''Seven Beauties'' and ''Iskander-nameh'' written in the masnavi poetic form.
Nizami's creations were at the top of the Renaissance of the East, and consisted of bright artistic reflection of the most humane, universal socio-political, social and moral-ethic ideals of his epoch. The description of a man's inner world, his feelings, and thoughts along with the dynamic development of the main hero's characters underlies the basic aim and content of the Nizami literary school.
Nizami's poems played a great role in the enrichment of the love theme, which is widespread in Oriental literature, with social, universal ideals and humane content.
Nizami brought the highest humane ideals and new professional achievements into the literature of the Near East nations and opened a new direction in Eastern literature. He always tried to connect literature with life, through images taken from history, treating them based on present-day realities; as a great and humane poet, he elegized the man, the man's dignity. The wise thoughts, taken from people's knowledge, along with people's wishes and dreams, were skillfully expressed by Nizami in his works, which are perfect in terms of meaning and form.
Nizami was the first poet in Oriental literature who elegized a woman's high human qualities. He contraposed a brave, valiant, belligerent image of a woman to an image of a man without any qualities. He proves that a woman can be involved in many areas of activity on equal terms. Nizami was the first in Oriental literature who praised work, regarding it as a man's main distinction from other living creatures.
According to the poet, only a hard-working man deserves respect and love. Nizami was also a great patriot. In each work he tried to connect the events being described with Azerbaijan and to praise the past glorious days of his country. The beauty of the native nature are praised in Nizami's works as well. Azerbaijani oral folk literature -- dastans, legends, tales and proverbs -- are widely and skillfully used in Nizami's creations. In its turn, his plot significantly affected the Azerbaijani folklore.
Nizami's creations played a great role in the development of Oriental arts. Since the end of 17th century, the interest in the Nizami heritage has increased in Europe and Russia, and his works were translated into English, German, French, Italian, Spanish, Japan and other languages of the world; his life and creations were extensively researched.
The unique manuscripts of his works are kept in well-known libraries and museums in many cities of the world, including Baku, Moscow and St.Petersburg, Tashkent, Tabriz, Tehran, Cairo, Istanbul, Delhi, London, and Paris.
Category News