Azerbaijani carpets demonstrated in Washington within Women's Empowerment Week [PHOTOS]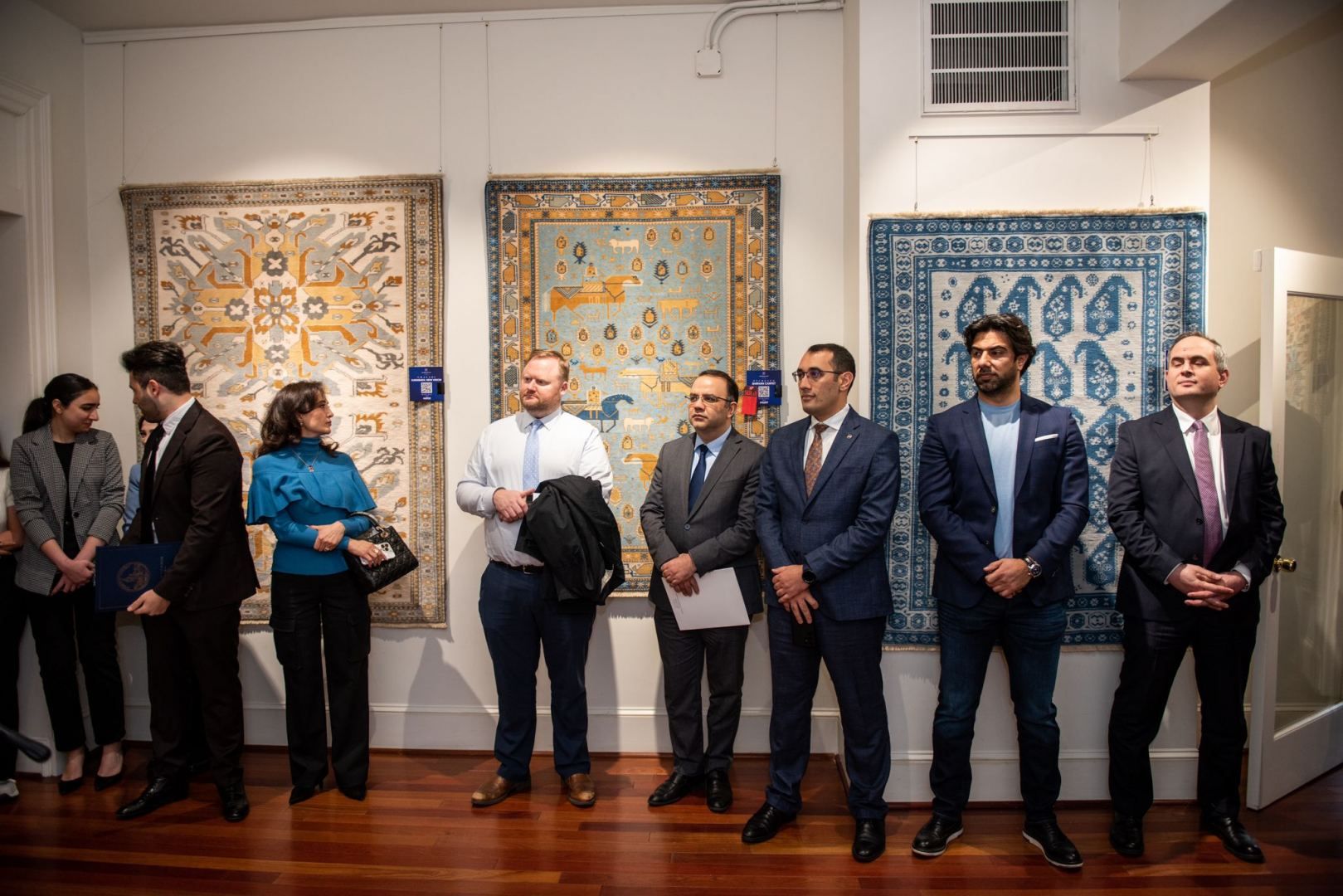 Azerkhalcha OJSC has showcased stunning carpet products in Washington as part of the "Week of empowerment of women in Azerbaijani villages".
The week was organized within Women's History Month, announced by the Mayor of Washington, D.C Muriel Bowser, to honor women's contribution to world history and the development of modern society, Azernews reports.
The exhibition themed "Azerbaijani carpets" opened in the gallery of the United States - Azerbaijan Chamber of Commerce (USACC) office.
The event showcased Azerbaijan's rich cultural heritage, based on the special skills, craftsmanship and history of each carpet, designed in traditional, classic, pastel colors and contemporary art styles.
One of the highlights of the exhibition was the fact that Mayor Muriel Bowser declared March 27-31 "Azerbaijan Rural Women's Empowerment Week".
In an effort to present Azerbaijani carpets to the world in a modern interpretation and establish international relations through the organization of exhibitions abroad, Azerkhalcha OJSC is taking as a next step to generate great interest in Azerbaijani carpets and carpet weaving traditions in the United States.
The cooperation agreement reached between Azerkhalcha OJSC and the the United States - Azerbaijan Chamber of Commerce (USACC).
USACC, operating in Washington, provides an opportunity to organize exhibitions and sales, which will present the original handmade carpets under the Made in Azerbaijan brand, produced by Azerkhalcha OJSC in Washington and in other states.
At the opening of the exhibition, USACC Executive Director Natig Bakhishov delivered a welcoming speech, emphasizing the importance of the ongoing project to promote Azerbaijani carpet art.
Chairman of the Board of Azerkhalcha OJSC, Honored Art Worker Emin Mammadov noted that Azerkhalcha OJSC, which consists mainly of women, is the leading provider of jobs for women in the regions.
The company manifests itself as a strong supporter of the professional development of women in the regions, their employment, socialization and well-deserved reputation in society as individuals.
It regularly carries out the process of training new weavers, improves their skills, teaches forgotten ancient technologies in training centers and workshops by professional craftsmen.
In addition to the displayed carpets, Azerbaijani women who weave them, as well as the work of weavers living in the regions, are widely represented at foreign exhibitions.
Along with carpets presented in other US states, each visitor of the exhibition is provided with extensive information and various videos about Azerbaijani women, national carpet weavers and their craft.
---
Follow us on Twitter @AzerNewsAz