Zeynab Kazimova's films in limelight of attention [PHOTO]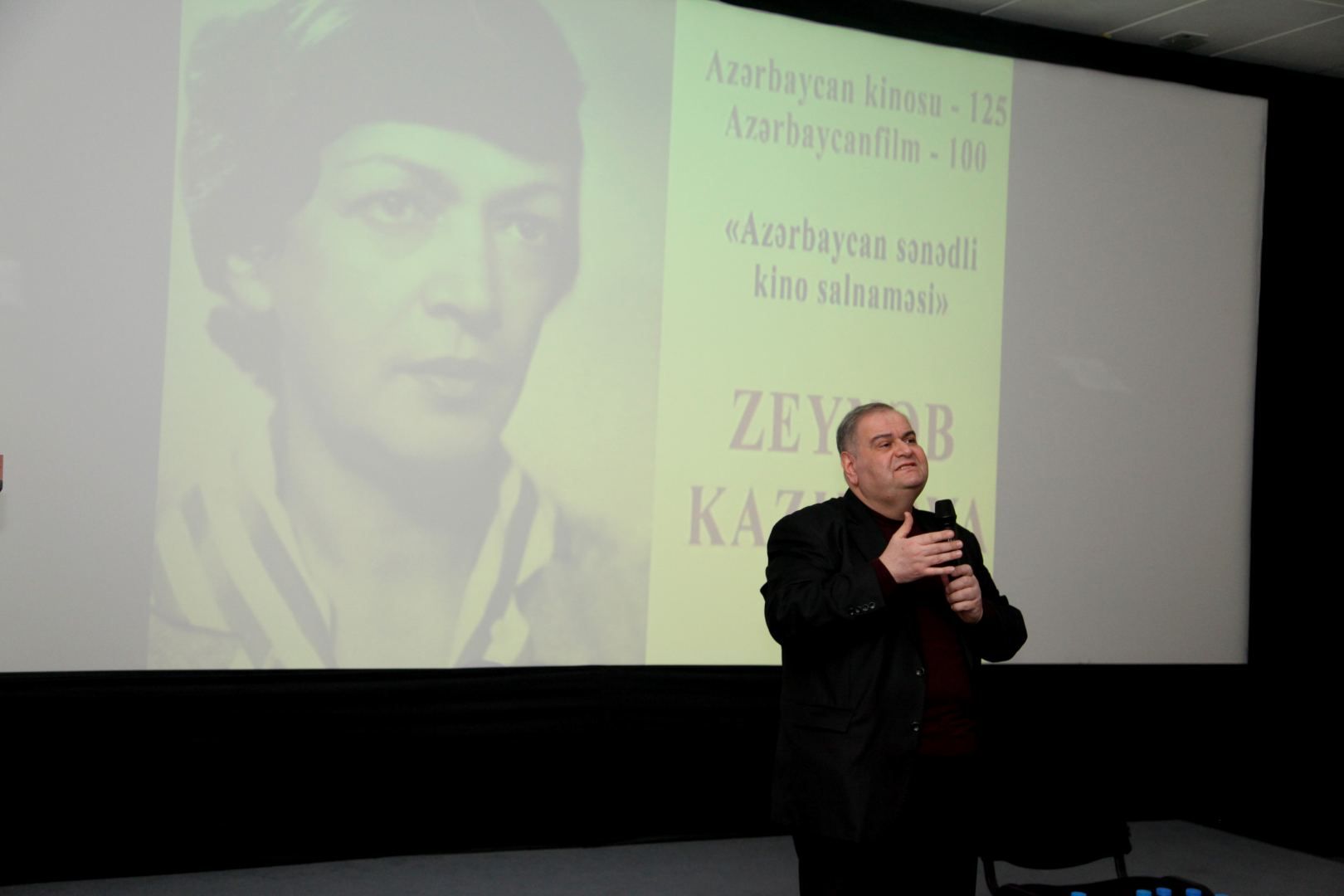 The State Film Fund has screened films by Zeynab Kazimova, known as one of Azerbaijan's first female film directors.
Her films The Last Prayer (1963) and Azim Azimzada (1967) were shown within a cycle of retrospective of Azerbaijani films, themed Chronicle of Azerbaijani Documentary Cinema, Azernews reports.
Director of the State Film Fund Honored Art Worker Jamil Guliyev welcomed the guests of the event. He spoke in detail about Zeynab Kazimova's merits to the Azerbaijani film industry.
Zeynab Kazimova started working at the film studio in 1935. She graduated from the higher dubbing courses in Moscow, and for some time, she was the head of the dubbing department at the film studio.
Kazimova was an assistant director of the films The Violent Band and Sabuhi.
Moreover, Zeynab Kazimova took part in the filming of such cinemas as Fatali Khan, Fires of Baku, and Telephonist as a second film director. She also filmed a short film Through the Black Forest.
Zeynab Kazimova gained fame as a director of documentaries. She made films such as Umnisa xanim, Sevil Gaziyeva, Mugan's daughter, Sureya, etc.
In his speech, Jamil Guliyev said that Kazimova's short feature film Last Prayer was found at the base of the State Film Fund in Nakhchivan. This copy has been restored and translated into electronic format by the State Film Fund.
The mention of this film was not found in any catalog or list of Azerbaijani films due to the fact that at one time, the film was not recommended for showing, and subsequently, the film was lost.
Asgar Ismayilov (cameraman), Mammadaga Huseynov (artist), and Zakir Bagirov (composer) also worked on the film.
The cast included Agadadash Gurbanov, Mohsun Sanani, Ataya Aliyeva, and other famous Azerbaijani actors.
The documentary Azim Azimzada tells about the life and work of an outstanding artist and graphic artist, People's Artist of Azerbaijan, whose name is closely associated with Molla Nasraddin magazine.
The film was produced in 1967 by scriptwriter Ramiz Asgarov, cameraman Alibala Alakbarov, composer Sevda Ibrahimova, and others.
People's Writer of Azerbaijan, publicist, diplomat Elmira Axundova, who is a member of Zeynab Kazimova's family, Honored Artist of Azerbaijan, film director Elxan Gasimov, Honored Art Worker, film critic Aydin Kazimzada, son of People's Artist of Azerbaijan Mammadagi Huseynov - Gani Huseynov shared their memories of Zeynab Kazimova.
The retrospective of Azerbaijani films is timed to the 125th anniversary of Azerbaijani cinema and the centenary of AzerbaijanFilm Studio.
The project started earlier in March with Niyazi Badalov's films 150 years. Mirza Fatali Akhundov, Island in the Mountains and Relay Race.
---
Follow us on Twitter @AzerNewsAz