National designer unites fashion and opera art [PHOTOS]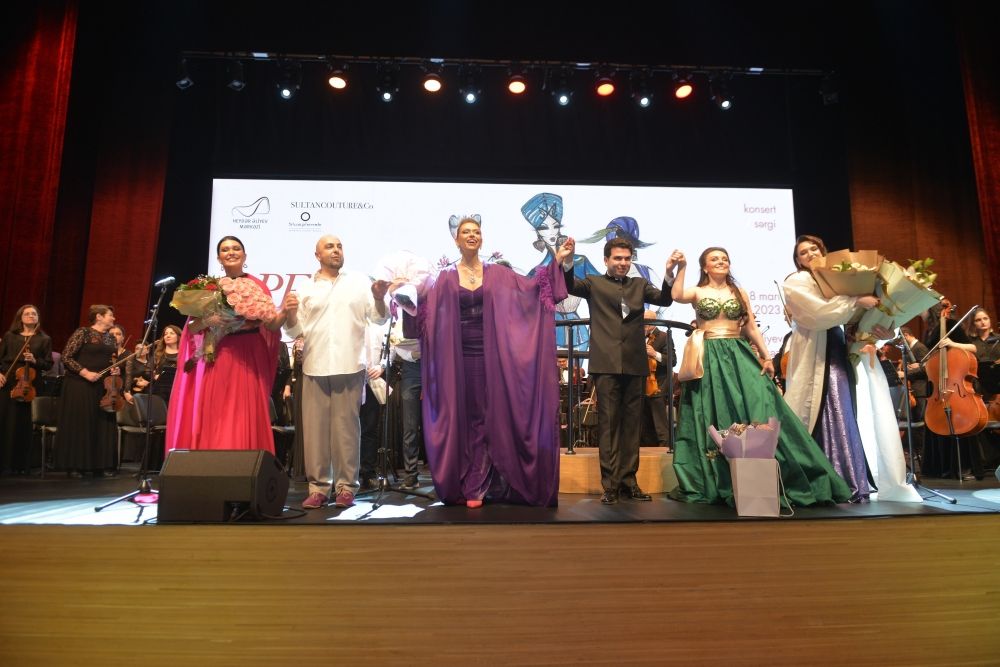 Heydar Aliyev Center has thrilled Baku residents and guests in Baku with a spectacular concert program and exhibition themed "Opera and Fashion. Sultan Couture 20".
The large-scale event united the fashion world and opera art on International Women's Day (March 8).
Before the beginning of the event, the audience enjoyed an exhibition dedicated to the first female singers of Azerbaijani opera.
The foundation of Azerbaijani opera art was laid on January 12, 1908, by outstanding composer Uzeyir Hajibayli, whose opera "Leyli and Majnun", became the first not only in Azerbaijan but also in the entire East.
And it was in Azerbaijan that female opera singers entered the theater stage for the first time in the Muslim world.
The exhibition highlighted the history of Azerbaijan's first female opera singers Fatma Mukhtarova, Shovkat Mammadova, Gulhar Hasanova, Sonya Aslanova, Sona Mustafayeva as well as Shafiga Akhundova, known as the first female composer, who composed the opera in the East.
Photographs from Uzeyir Hajibayli's opera "Leyli and Majnun", Muslim Magomayev's "Nargiz", Niyazi's "Khosrov and Shirin", Afrasiyab Badalbayli's "Maiden Tower", Giuseppe Verdi's "La Traviata", Reinhold Gliere's "Shahsanam" and Georges Bizet's "Carmen" were also be exhibited.
The opera lovers had the opportunity to see two historical costumes-Hagigat Rzayev's costume Rzayeva as Leyli (Leyli and Majnun) and Nezaket Mammadova's costume as Solmaz (Fiery Bride).
Another section of the exhibition showcased Orkhan Sultan's clothes. His brand celebrates its 20th anniversary this year. The collection includes 16 stunning outfits.
As a fashion designer says, he has been passionate about opera and ballet since childhood. The list of his beloved operas include "Aida", "Turandot" and "La Traviata".
The designer's latest fashion collection reflects the transfer from the past to the present, considering the color scheme and opera singers` vocals.
In addition to the presented collection, opera singers also took to the stage in costumes created by Orkhan Sultan specifically for the Baku concert.
The stage images were decorated with Bvlgari brand jewelry. Among them was the host of the evening, Honored Cultural Worker Leyla Guliyeva.
During the concert program, acclaimed opera singers, laureate of international competitions Yana Melikayeva (mezzo-soprano), soloist of the Moscow Stanislavsky and Nemirovich-Danchenko Academic Music Theater Anastasiya Chernovolos (soprano), soloist of St. Petersburg's Mariinsky Theater Yulia Suleymanova (soprano), Yekaterina Sannikova (soprano), and soloist of the Helikon-Opera Moscow Music Theater Elnara Mammadova (soprano) delighted the audience with music pieces of Asaf Zeynalli, Gara Garayev, Niyazi, Uzeyir Hajibayli, Tofig Guliyev, Giacomo Puccini, Johann Strauss, Georges Bizet, and other Azerbaijani and world classics.
The opera stars were accompanied by the Azerbaijan State Symphony Orchestra under the baton of conductor Mustafa Mehmandarov.
---
Follow us on Twitter @AzerNewsAz