YARAT hosts solo exhibitions of Aida Mahmudova and Michelangelo Pistoletto [PHOTO]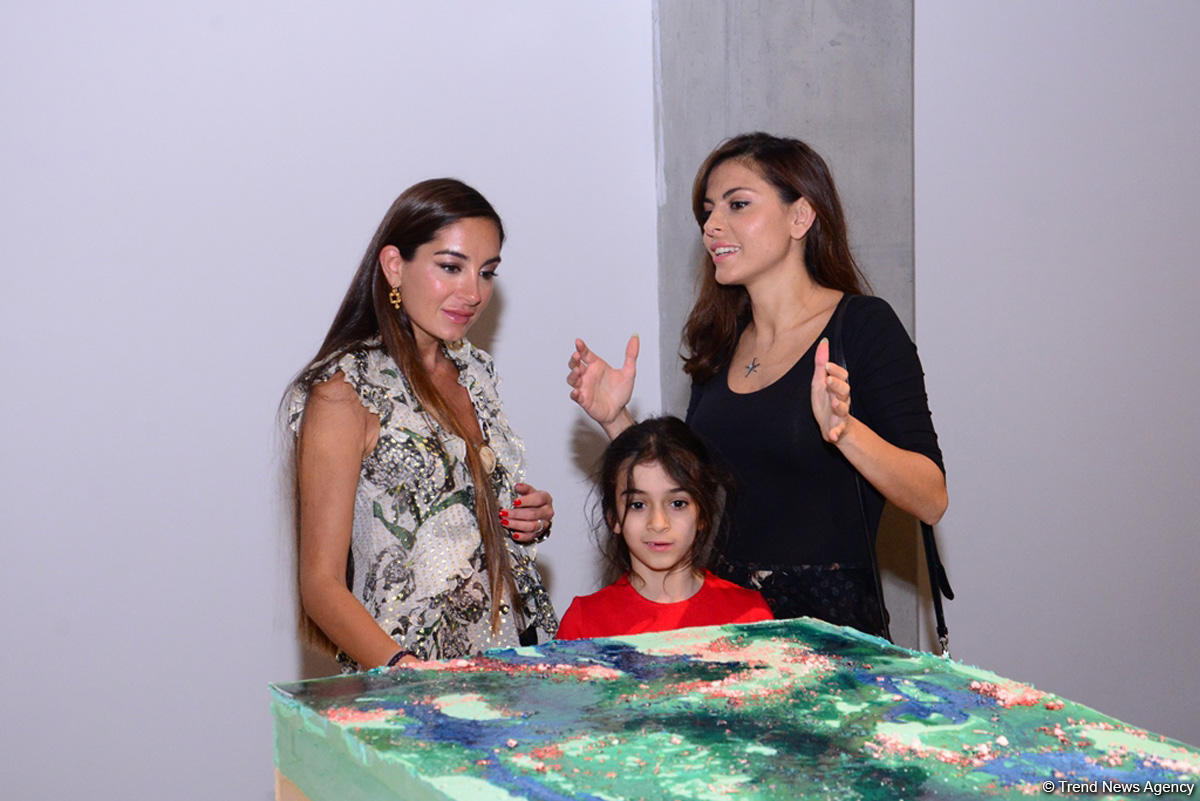 By Laman Ismayilova
Solo exhibitions of Aida Mahmudova "Non-imagined perspectives" and Michelangelo Pistoletto "Do it" have opened in YARAT Contemporary Art Space.
Assistant to the First Vice-President of Azerbaijan, Director of the Heydar Aliyev Center Anar Alakbarov, Minister of Culture and Tourism Abulfas Garayev, President of the Baku Media Center Arzu Aliyeva, prominent public and cultural figures, art lovers, diplomatic missions took part in the event.
Addressing the event, the curator of the exhibition, art director of the YARAT Contemporary Art Space Suad Garayeva-Maleki gave brief information on the exhibition.
By this joint exhibition begins three-year cooperation between YARAT and the Cittadellarte Foundation, within the framework of which various creative and educational projects will be implemented soon.
Suad Garayeva-Maleki expressed gratitude to Aida Makhmudova for creating broad opportunities for young people to discover their creative potential and realize their ideas. It was noted that this year the YARAT Academy will for the first time cooperate with the ADA University, the Baku Branch of Lomonosov Moscow State University and the State University of Culture and Arts, attracting more youth and students to participate in the projects at YARAT Contemporary Art Space.
Guests got acquainted with YARAT newspaper, featuring interesting materials, articles, news and interviews about the development of contemporary art.
Across the top floor of the exhibition space, the artist has produced an entirely new body of work that builds on her exploration of material as a tool for experimentation. For the artist the process of destruction and re-creation, of building layers and tearing them apart, of mixing various materials, such as paper, clay, cement, stone and, for the first time in this show marble, becomes an exercise for material growth and emotional healing. The total installation of sculptures, resembling crumbling pillars, and monumental wall works create a feeling of a transient place, half ruined and half built, and one is reminded that entropy is an essential step of creation.
For Mahmudova the process is everything and her textured works act as tokens of memory, each layer exposing a particular moment on the artist's personal time-space continuum.
Early on in her work, Mahmudova developed a curiosity towards material, which manifested itself through experimentation with light, color and matter in her landscapes and semi-abstract canvases. As her paintings became increasingly more layered the artist expanded her practice into the three dimensional, applying the same approach to sculpture and creating environments both emotive and intense. Harmonious with the physical nature of her chosen materials and her preferred earthly palette, her deeply intuitive explorations continue to evolve across the spectrum of universal human sentiments of love, loss, memory and desire. In the artist's own words, "this artistic process is in a way an act of tearing away at our fundamental principles, which are manmade and therefore ultimately fragile."
The curator of the exhibition, the strategic director of YARAT Björn Geldhof said that the exhibition "Do it" by Michelangelo Pistoletto is organized with the support of the Italian Embassy in Azerbaijan. The exhibition is a significant cultural event and will serve fruitful cooperation with the Cittadellarte Foundation, investments in talented Azerbaijani youth.
Charge d'affaires of Italy in Azerbaijan Umberto Goini said the project is the next international bridge of culture between the countries. It will contribute to bringing masters of modern art closer together and the development of youth.
Central to the exhibition is Pistoletto's 2003 text 'Terzo Paradiso' ('Third Paradise'), a manifesto for a harmonious future where nature and society coexist. 'Third Paradise' states the social responsibility to seek a more sustainable world, 'leading everything that is artificial; that is science and technology together with art; to give back life to Earth'.
For his solo exhibition at YARAT, Pistoletto continues to use this ideology as the catalyst for new installations, which are presented in conversation with a selection of the artist's early works. The notion of sustainability is further manifested through a series of educational programs focused on the methodology Pistoletto and his Foundation (Cittadellarte) developed for schoolchildren, including workshops for schoolchildren, young artists and a lecture series for university students. Taking place over the course of one year, this educational component will train local Azerbaijani educators in schools across Azerbaijan to develop and expand upon the way children approach sustainability and creative processes.
The expositions will be presented from April 1 to June 10.
Exhibitions are open from Tuesday through Sunday, from 12:00 – 20:00. Admission is free.
Location: YARAT Contemporary Art Centre, National Flag Square, Bayil, AZ1003
About artists:
Aida Mahmudova (b. 1982, Baku, Azerbaijan) lives and works in Baku. She graduated from Central Saint Martins, London with a degree in Fine Art in 2006. She has widely exhibited internationally, including group and solo exhibitions in Belgium, London, Rome, New York, Moscow and Baku. Selected solo exhibitions include: Can't Capture The Light, Deweer Gallery, Otegem (2017); Passing By..., Leila Heller Gallery, New York (2015); and Internal Peace, Barbarian Art Gallery, Zurich (2013). Mahmudova exhibited at the 55th Venice Biennale in the group show Love Me, Love Me Not (2013) and in the 56th Venice Biennale as part of VITA VITALE curated by Artwise (2015).
Michelangelo Pistoletto (b. 1933, Biella, Italy) lives and works in Biella, Italy. Since his first solo show in 1960, Pistoletto has gone onto exhibit globally, with his work held in the public collections of institutions such as Tate Britain, the San Francisco Museum of Modern Art and the Art Gallery of Ontario. A leading proponent in the Arte Povera movement, major retrospectives of the artist's work have been held in Venice, Madrid, Florence, Rome, Barcelona and Philadelphia. At the 2003 Venice Biennale, he was awarded the Leone d'Oro for lifetime achievement, and in 2007 he was awarded the Wolf Foundation Prize in Jerusalem. In 2013, Pistoletto was given the Praemium Imperiale Award from the Japan Arts Association in Tokyo.
In 1994, Michelangelo Pistoletto created the Progetto Arte Manifesto in which he proposed a new role for the artist: placing art in direct interaction with all areas of human activities surrounding the formation of society. Subsequently, in 1998, he founded Cittadellarte in his hometown of Biella, Northern Italy - a vibrant cultural and entrepreneurial community of hundreds of individuals actively engaged with their society, whilst connected to an international network. Cittadellarte's aim is to inspire and produce responsible community change. It is a laboratory-school dedicated to the study, experimentation and development of practices translating the symbol of the Third Paradise into reality, incorporating it into every sector of society and every type of organization, from the single individual to global governmental agencies like the United Nations. Cittadellarte operates in collaboration and in network with thousands of public and private subjects sharing its vision, among which the Embassies of the Third Paradise, currently 125 in 47 countries.
YARAT comprises YARAT Art Centre, ARTIM Project Space, YARAT Studios, YAY Gallery and an extended educational and public programme. YARAT Art Centre, a 2000m² converted Soviet-era naval building, opened in March 2015 and is the organisation's main exhibition space. The exhibition programme features new commissions by artists responding to the region. It supports and provides access to artists from the region, while engaging and introducing established, international artists.
In October 2015, YARAT opened ARTIM, a central, accessible and dynamic space in Baku's Old City. ARTIM (meaning 'progress' in Azerbaijani) shows experimental practices and new work by emerging Azeri art professionals (selected through open call) and the international artists from the residency programme. It features multiple small-scale projects each year and hosts ARTIM LAB, a programme enabling young artists to engage in workshops and daily studio practice to generate new ideas and works.
In 2016 YARAT launched a renewed residency programme. Aimed at developing young Azerbaijani voices and emerging international artists, the focus is on new, innovative practices and artists with an interest in the region. The residency programme hosts 6 international and 4 local artists a year at YARAT Studios' spaces.
Education has been at the heart of YARAT's activities since its creation. With a dedicated public programme that includes courses, workshops, lectures, screenings, festivals, literature and theatre clubs and family weekends, YARAT aims to give access to broad audiences of all ages. The public programme invests proactively in building communities and nurturing a wider understanding of, and participation in, contemporary art.
---
Laman Ismayilova is AzerNews' staff journalist, follow her on Twitter: @Lam_Ismayilova
Follow us on Twitter @AzerNewsAz