Moody's says Azerbaijan's manat devaluation to badly affect banks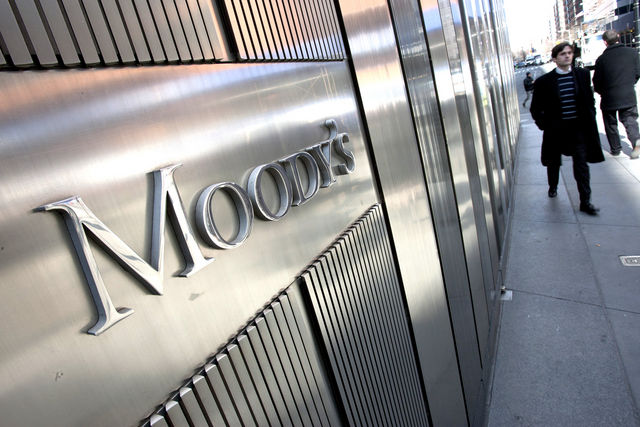 By Gulgiz Dadashova
Azerbaijan's banks face risks to asset quality after the Central Bank of Azerbaijan devalued the national currency, Moody's Investors Service announced.
The CBA set the manat at 1.05 against the USD, compared to 0.78 earlier. The move aims to strengthen "international competitiveness," amid pressure on the countries finances from falling oil prices, according to the CBA statement.
The manat devaluation and move to a more floating exchange-rate regime is credit negative for Azerbaijani banks, because it pressures banks' asset quality by weakening borrowers' ability to repay loans, and inflates the size of banks' foreign-currency-denominated liabilities, Moody's said in a statement on February 23.
Azerbaijan's manat had been stable at just over 0.78 per dollar since mid-2011 until the recent slump in global oil prices, which put downward pressure on the manat. Although Azerbaijan's economy is less affected than other CIS states by the economic crisis in neighboring Russia, its economy depends on the oil and gas sector
The economy of Azerbaijan, the biggest economy in the South Caucasus, has slowed as oil prices fell 45 percent from last year's peak. The country, which relies on hydrocarbons for more than 90 percent of exports and forms 65 percent of its state budget from the petrodollars, was forced to devaluate the national currency.
The manat was 25 percent weaker versus Friday's close at 1.03 per dollar by 6:33 p.m. in Baku, according to Bloomberg data, as the tightly regulated currency market opened after the weekend announcement. The devaluation follows a February 16 decision to shift from a dollar-peg policy to tying the manat to a basket, including the euro.
"We believe that banks with a high share of foreign-currency loans will face increased loan delinquencies and credit costs because most Azerbaijani banks' foreign-currency loans are granted to borrowers that do not have foreign-currency revenues and are therefore unprotected against foreign-currency risk," Moody's Investors Service noted.
The CBA has spent about $1 billion of its reserves since the beginning of 2015 to defend the manta. The intervention has eaten into its foreign-currency reserves. The CBA's foreign reserves fell 11 percent to about $12.7 billion as of January 31 from a year earlier, partly as it sought to protect the manat's peg to the dollar.
Standard & Poor's lowered the outlook on Azerbaijan's BBB- credit rating to negative on January 30, citing the oil-price decline and pressure on the manat from "weaker terms of trade."
---
Follow the author on Twitter: @GulgizD
Follow us on Twitter @AzerNewsAz