NY-Baku flight passengers to obtain Azerbaijani visa at airport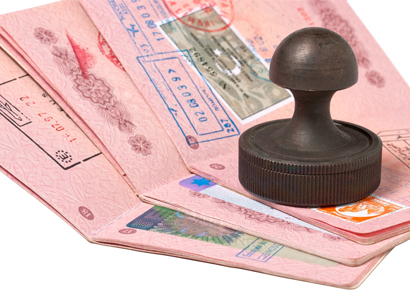 By Amina Nazarli
Passengers flying along the NY-Baku direct route with Azerbaijani Airlines CJSC (AZAL) will be able to receive Azerbaijani visa upon their arrival at the Heydar Aliyev International Airport in Baku, the website of Azerbaijani embassy in US said.
The national carrier AZAL introduced the direct flights from New York's JFK Airport to Baku's Heydar Aliyev International Airport twice a week which started on September 24, 2014.
The Foreign Ministry of Azerbaijan now provides a special arrangement to facilitate the visa process obtaining for the passengers on this flight.
The passengers will be able to obtain short stay single entry visas (up to 30 days) at the visa section of the Consular Department of the Ministry of Foreign Affairs of Azerbaijan at the Heydar Aliyev International Airport of Baku.
Flights to John Kennedy Airport of New York City run weekly on Wednesdays and Saturdays departing from Baku at 06:00 and arriving in the biggest city of North America at 09:30 local time.

The return flights are operated on the same days of the week leaving New York at 11:30 and coming to the capital of Azerbaijan at 08:00 next day.

The flights are operated by modern and high-end comfortable liners Airbus-340, which are designed for travel on long-haul routes.

Soon, AZAL may increase the number of flights to the U.S, with increasing the passenger traffic. Currently, the flights are carried out two times in a week. But after transition to the winter time (October 26), the number of the flights will reach three times per week.