Azerbaijan-Russia trade turnover up in five months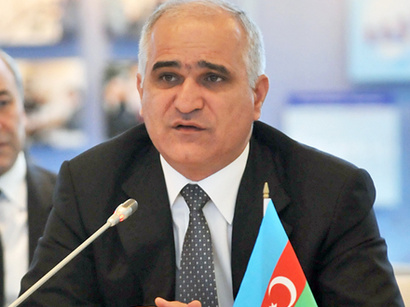 By Aynur Jafarova
The trade turnover between Azerbaijan and Russia increased by 38 percent in the first five months of 2013, Azerbaijani Economic Development Minister Shahin Mustafayev said at a joint business forum held in Baku on July 8.
"Our country traditionally pays special attention to its cooperation with Russia. The level of relations between the two countries has been raised to a strategic one. Special attention was paid and is being paid to the bilateral relations with the North Caucasus regions of Russia," Mustafayev said.
The Azerbaijan-Russia business forum was organized by the Azerbaijan Export and Investment Promotion Foundation (AZPROMO) with support of Azerbaijan's Economic Development Ministry. The business forum was attended by government officials as well as representatives of companies active in the fields of industry, agriculture, ICT, finance, banking, energy and consulting.
Mustafayev also said there is extensive legal framework between Azerbaijan and Russia. More than 30 economic documents have been signed.
According to the minister, 479 companies with Russian capital operate in Azerbaijan. Russia has invested $468 million in recent years, and Azerbaijan has invested $563 million in the neighboring country's economy in the past ten years.
Mustafayev recalled that in November 2011, an Azerbaijani delegation he headed visited the North Caucasus regions of Russia to explore investment opportunities there.
Mustafayev further said that in the past three years 12 business forums, working meetings and exhibitions have been held with subjects of the Russian Federation.
According to him, the ties with Russia's North Caucasus regions have been particularly strengthened in the last two years.
"Unfortunately, currently we cannot speak about the existence of a significant trade turnover and interaction between Azerbaijan and Ingushetia. However, I think that the visit of such a delegation to our country will give an impetus to the development of relations between us," the minister said.
Mustafayev also spoke of Azerbaijani entrepreneurs' opportunities.
A strong middle class - the class of entrepreneurs - has been formed as a result of the reforms carried out in Azerbaijan; Azerbaijani businessmen operate in 71 regions of Russia and successfully work in the regional countries, he said.
According to him, there is political will for the development of cooperation, and the main task is to open up possibilities of the countries by holding such working meetings.
After a meeting with Mustafayev, Republic of Ingushetia Prime Minister Musa Chiliyev told journalists that Ingushetia would be attractive for the activity of Azerbaijani entrepreneurs.
"There is great potential between our countries. Ingushetia is open for Azerbaijani businessmen. We are discussing the perspective of interaction in various sectors, including in the field of construction of a greenhouse complex and would be glad to see Azerbaijani investors interested in investment opportunities of the republic. It is favorable not only for us, but also for Azerbaijani entrepreneurs, who obviously will be interested in producing their goods for further delivery to the regions of Russia from Ingushetia rather than exporting them from Azerbaijan, facing customs procedures and etc.," Chiliyev said.
According to him, the potential of cooperation with Azerbaijan covers various sectors.
"It is the woodworking industry, tourism as well as agriculture. During the visit we familiarized ourselves with several Azerbaijani enterprises and I would like to note that we are interested in establishing similar production capacities in Ingushetia and welcome relevant initiatives," he said.
He went on to say that Azerbaijan is of interest for tourists from Ingushetia.
"We see how highly the tourism infrastructure is developed here. An entire class of qualified personnel has been created in this sector. Your country pays much attention to tourism and the development of this sector," he said.
According to him, all these indicators make Azerbaijan attractive for tourists from the North Caucasus regions, in particular, Ingushetia.
"Undoubtedly, your country, in particular, the seaside resorts of Azerbaijan, are very interesting. Our republic also develops and pays attention to the development of its tourism potential and we are interested in Azerbaijan's experience. At the same time, the close neighborhood of our regions, the possibility of coming to Azerbaijan from Ingushetia by automobiles, as well as the historical and cultural commonality, make the resorts of your country much more attractive for Ingush tourists than other popular destinations, for example, Turkey or Egypt," Chiliyev said.
Chiliyev was received by Azerbaijan's Agriculture Minister Ismet Abbasov. The aim of the meeting was to develop bilateral cooperation between Azerbaijan and Ingushetia in the agricultural sector.
Abbasov briefed Chiliyev about the successes achieved in the field of agriculture. He said further that the overall agricultural production has increased by 5.2 percent, while that of plant cultivation - by 9.6 percent and animal husbandry 4.7 percent in January-May 2013.
Chiliyev, in turn, said that there are favorable climatic conditions in Ingushetia for the development of agriculture and legal framework for investment in this field.
Azerbaijan's Deputy Prime Minister Abid Sharifov also received the Ingush delegation headed by Musa Chiliyev.
Sharifov pointed out that the relations between Azerbaijan and Ingushetia are developing.
Chiliyev, for his part, appreciated the development trends observed in Azerbaijan. He said that the Azerbaijani diaspora in Russia positively affects the development of bilateral relations. According to Chiliyev, Ingushetia and Azerbaijan attach importance to cooperation in culture, art, sports and other fields.