20 May 2013 11:48 (UTC+04:00)
756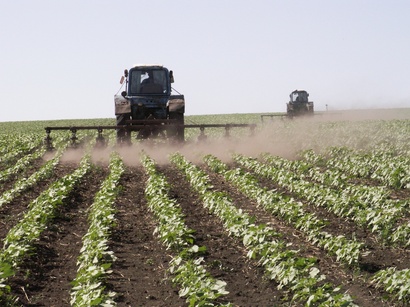 By Aynur Jafarova
Agricultural production in Azerbaijan was estimated at 762.6 million manats (over $970 million) in January-April 2013, which is 4.8 percent over the same period of 2012, according to official figures.
The growth of crop products amounted to 9.8 percent, while that of livestock products - 4.6 percent," the State Statistics Committee said.
Spring field work was carried out in the country in April. By May 1, spring plants were sown over an area of 262,500 hectares, which is 0.5 percent less compared to the same period of 2012.
Potatoes were planted on 56,100 hectares, while vegetables - on 52,600 hectares. 42,100 hectares were used for grain and legumes, while melons occupied 18,500 hectares, cotton - 19,100 hectares, sunflower seeds for fodder 6,300 hectares, sugar beets 3,600 hectares, and perennial herbs 60,200 hectares.
In the structure of spring crops, grain and leguminous crops, including corn, accounted for 16 percent, while potatoes, vegetables and melons - 48.3 percent, and fodder plants 23.6 percent.
Agriculture Minister Ismet Abbasov said earlier that the volume of wheat production in Azerbaijan is expected to be at least 2.8 million tons in 2013.
Furthermore, about 41,500 tons of vegetable products were produced in the farms of the country in January-April.
During the reporting period the volume of the country's meat production in live weight amounted to 141,100 tons. 557,900 tons of milk were produced, along with 442.3 million eggs and 2,411 tons of wool.
The volume of meat production in the reporting period increased by 2.5 percent, while that of milk - by 5.8 percent, eggs 15 percent and wool 29.2 percent compared to the first four months of last year.
Earlier, Minister Abbasov said favorable weather conditions in May will positively affect the development of all sectors of agricultural production in Azerbaijan.
"Increased production volumes contribute to lower prices for agricultural goods and seasonal products' prices will be slightly lower at fairs," the minister said.
He said the rainy weather observed in April was a positive factor for the agricultural sector.
Agriculture is a meaningful component of Azerbaijan's non-oil economy and has significant potential for boosting export revenues for the country. It is a key source of jobs, as 38 percent of the population is employed in agriculture and this sector is a priority in the context of food security.
Related News