EBRD, largest Azerbaijani furniture manufacturer sign loan agreement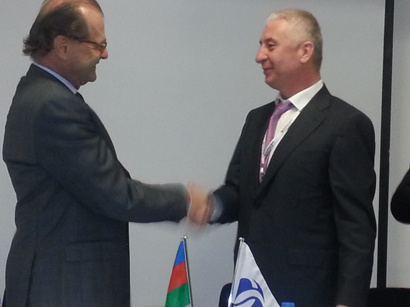 By Sabina Idayatova
The European Bank for Reconstruction and Development (EBRD) has signed an agreement with the largest Azerbaijani furniture manufacturer - Embawood on a loan of $12 million to improve production facilities of the company, the EBRD`s Baku office said on Monday.

"The proceeds of the EBRD loan will be used to finance the quality control of its production facilities in order to maintain high standards throughout all entities. Part of the loan will also be used for Energy Efficiency improvements throughout all its three production units," the statement says.

Embawood is the largest manufacturer and retailer of home and office furniture in Azerbaijan. The company owns total of seven factories -- three operating in Azerbaijan and the four located outside the country - one each in Ukraine and Uzbekistan and two in Georgia. Embawood is represented in ten countries via a retail trade network of around 200 shops.
Embawood has been an EBRD client since 2003, through EBRD's BAS (Business Advisory Services) and TAM (Turn Around Management) programes, helping the company in the areas of corporate governance, financial management, quality control and health and safety.
The EBRD loan has also been complemented by EUR 120,000 Technical Cooperation funds from Early Transition Countries Initiative and the Regional Energy Efficiency Programme for the Corporate Sector.
"We are pleased to expand our cooperation with Embawood helping to further strengthen the company's operations. We are especially glad to support the efforts of our client to control the quality of its production and to make its facilities more energy efficient by upgrading its facilities. This is a further demonstration of the company's commitment to quality, good corporate governance and social responsibility," Olivier Descamps, EBRD Managing Director for Turkey, Eastern Europe, Caucasus and Central Asia said.

The EBRD has been working in Azerbaijan since the republic gained independence in 1991. Its focus is on helping to speed up reforms and address some of the challenges facing Azerbaijan. The bank is focused on three main areas: industry, commerce and agribusiness, finance and energy and infrastructure.
To-date, the EBRD has signed 131 investments worth more than USD 2.1 billion in various sectors of the Azerbaijani economy. The developing manufacturing and services segment offers several opportunities for the Bank to reduce the country's reliance on oil and gas revenues by promoting economic diversification - one of EBRD's priorities in Azerbaijan.
Priority areas include increasing investments in the country's non-oil sector, funding financial sector development and support for small business entrepreneurs.
The Bank seeks to engage with other international financial institutions and the business community in policy dialogue with the authorities, in order to implement reforms and improve the investment climate which include advisory support, institution building and legal transition work, mobilising donor financing in support of the preparation and implementation of projects, etc.