30 January 2012 11:47 (UTC+04:00)
790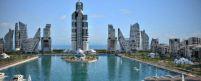 $100 billion to be invested in Khazar Islands project
An Azerbaijan-based housing developer plans to build the world's tallest building on a manmade island in the Caspian Sea as part of a $100-billion project.
The 1,050 meter Azerbaijan Tower will be erected as part of the Khazar Islands, a new residential and business complex to be constructed on artificial islands, Haji Ibrahim Nehramli, president of Avesta Concern, said in an interview.
Previously, the tower was expected to have 185 stories and to be 560 meters high. However, Avesta later revised the project and passed a decision to build the world's tallest tower.
Nehramli also said the Azerbaijan Tower will be about 200 meters taller than the world's tallest building, Burj Khalifa, which was commissioned in Dubai last year, and 50 meters taller than the Kingdom Tower, which is due to be constructed in Jeddah, Saudi Arabia.
Construction of the tower would start in 2015 and cost $2 billion, Nehramli said. The building is due to be commissioned in 2018-2019.
Avesta Concern is in talks with "Arab real estate developers" that have shown interest in backing the project, he said.
The Khazar Islands project envisions construction of a town with a population of nearly 1 million people, Nehramli said. Avesta Concern has spent $1 billion on the Khazar Islands after starting construction last year.
The town will be built 25 kilometers (16 miles) south of Baku on 41 artificial islands resembling a carpet, Nehramli said. Six of the islands will be connected with 19 bridges and will be ready by 2016, he said. Azerbaijan's government approved the project in March, he said.
According to Kanan Guluzada, Khazar Islands head of sales and marketing, people will begin to be settled in the new town in 2013-2014.
Construction of Khazar Islands is currently being carried out at the expense of Avesta's funds, but foreign investors are to be drawn to the project soon. Overall, half of the $60 billion required to cover most of the construction work is to be earned from foreign investment, while the other half – from the sale of apartments. Avesta's management says the funds invested in the project will have an annual yield of 10-15 percent.
Residential buildings in Khazar Islands will consist of 25 to 60 stories. Authors of the project say the buildings will meet the highest safety standards and could withstand a 9 magnitude earthquake.
Sale of apartments has already begun. The price of a fully renovated apartment is $4,500 to $5,150 per square meter. 15-year mortgage loans are available for such purchases as well.
Khazar Islands will have 150 schools, 50 kindergartens and hospitals, numerous theaters, cinemas, restaurants and shopping malls.
Along with the Azerbaijan Tower, the unique features of Khazar Islands are to include its own airport, a Formula 1 race track as well as university campuses. In the future, Khazar Islands is expected to be granted city status and to have its own mayor's office.
Category News