Azerbaijan ready to cooperate with FAO in transforming villages [PHOTOS]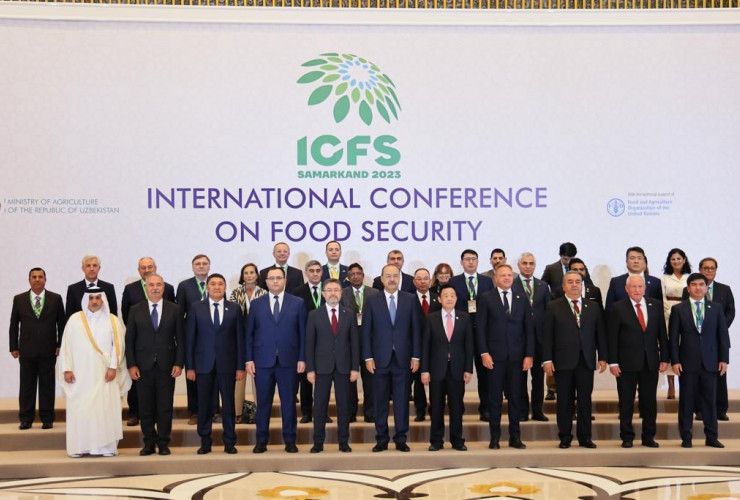 Azerbaijan is ready to cooperate with the UN Food and Agriculture Organisation (FAO) to transform villages through digitalization into "smart villages". Agriculture Minister Mejnun Mammadov said this while participating in an international conference on food security in Samarkand, Azernews reports, citing the Ministry.
M. Mammadov noted that the digitalization of agriculture, as well as the introduction of advanced technologies and best practices, are important for the creation of sustainable agrarian food systems. The Minister emphasized the importance of the transformation of agri-food systems for ensuring food security in the world.
Saying that the Azerbaijani government attaches special importance to digitalization in agriculture, Mammadov noted that after the liberation of Azerbaijani lands from occupation, Azerbaijani President Ilham Aliyev declared the Garabagh region a zone of green energy: "At present, large-scale measures are being successfully implemented to restore, reconstruct the liberated territories, ensure their further development, and create the necessary infrastructure".
It was noted that agriculture in these territories will be developed in accordance with the concept of a "smart village", which includes the best technologies and practices. Azerbaijan is ready for close cooperation in this direction, as this goal is in line with FAO's plan to turn villages in different countries into "smart villages" in the future through digitalization.
It should be noted that the prestigious international event, organized with the technical support of FAO, an organization of the Government of Uzbekistan, was attended by officials from more than 30 countries, senior officials from reputable international organizations, specialists from research institutions, and experts.
The FAO's Hand in Hand, Field to Table, Solidarity for Health Initiative and others provide state-of-the-art guidance for responding to critical factors affecting food security. Azerbaijan is committed to developing a national food security system by diversifying its economy and has launched the Electronic Agricultural Information System to facilitate access to all services and government support.
The UN is also ready to assist Azerbaijan in creating a zone of 'net zero emissions' in the liberated territories. At the COP 26 conference in Glasgow last year, Azerbaijan expressed its desire to achieve the creation of a 'net zero emissions' zone in the liberated territories. The UN aims to work with Azerbaijan in this regard to help the country in achieving these goals.
Moreover, Azerbaijan is ready to cooperate with Kazakh companies in the field of renewable energy. The protocol of the 19th meeting of the joint Intergovernmental Commission on trade and economic cooperation between Azerbaijan and Kazakhstan contains the main points in the cooperation of the two countries, including issues of cooperation in the field of energy.
Azerbaijan is committed to transitioning to green energy and is ready to cooperate with the FAO and other countries to achieve its goals.
---
Follow us on Twitter @AzerNewsAz