Azerbaijan offers US to expand ties in three directions - Deputy Energy Minister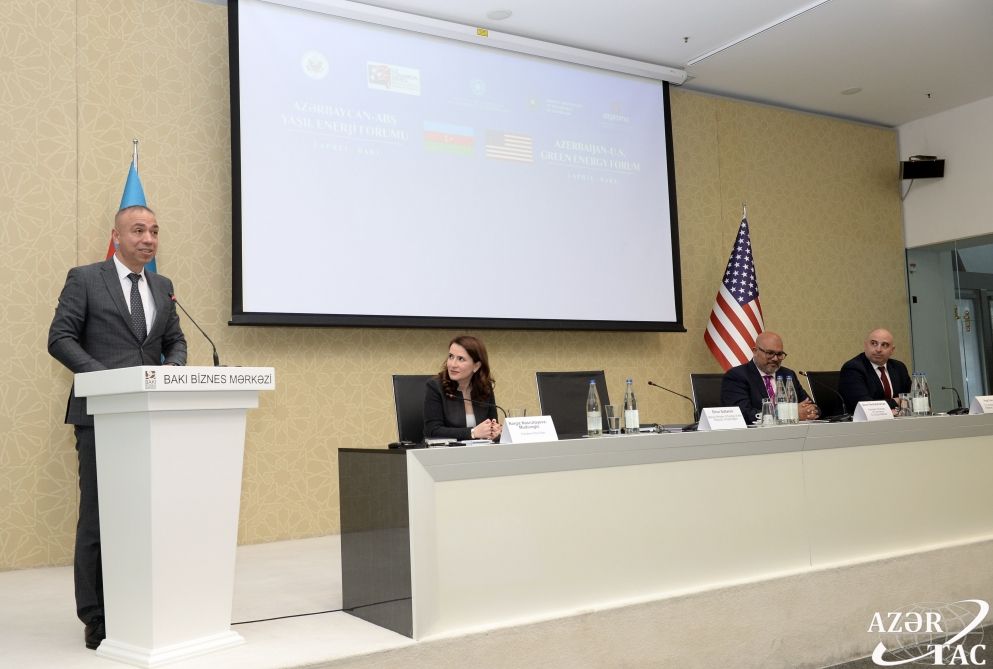 Azerbaijan offers the United States to expand cooperation in the field of energy in three directions, Deputy Energy Minister Elnur Soltanov said.
According to Azernews, the official made the remarks at the Azerbaijan-US "Green Energy" forum being held in the Baku Business Center.
According to him, Azerbaijan's liberated territories, the Caspian region and Nakhchivan have great potential for cooperation in the field of energy.
"We proposed to our colleagues from the USA to establish and expand cooperation in these three priority areas," he added.
Furthermore, Soltanov stressed that Azerbaijan is currently discussing the purchase of batteries for the storage of electricity obtained from renewable energy sources.
The official noted that there are difficulties related to purchasing the batteries because of their price, hence why the discussions are still in the initial stage. He added that the discussions are being held with Saudi Arabia's ACWA POWER Company.
Additionally, Soltanov also underlined that Nakhchivan will become a hub for transporting clean energy from Azerbaijan to Turkiye and Europe.
"We are already attracting foreign investments to the country. As you know, we are planning to build a solar power plant in Karabakh together with bp. It will produce 25 gigawatts of electricity by 2030. The total potential of our country in green energy production is 200 gigawatts," he said.
Speaking at the forum, Assistant Secretary of Commerce for Global Markets and Director General of the U.S. and Foreign Commercial Service Arun Venkataraman stated that US companies are interested in Azerbaijan's energy projects.
According to him, the US government and companies know that today Azerbaijan plays the role of a hub for transporting energy resources to various regions.
"In addition, we are considering cooperation in the private sector, especially in the transport sector. President Biden positively welcomes the decarbonization processes going on in the world, including in the United States. I am happy that Azerbaijan is also working in this direction, this increases our confidence in the country," the official emphasized.
Venkataraman noted that US and European investors are making their investments considering Azerbaijan's stable economy and potential, and they are ready to expand this cooperation.
The forum discussed cooperation relations between Azerbaijan and the United States in the field of energy, exchange of experience in the direction of "green energy" production, energy export, investment, and other issues.
Assistant to the Minister of Commerce of the USA Arun Venkataraman, who is on a visit to Azerbaijan till April 5, as well as Chargé d'Affaires of the US Embassy in Azerbaijan Hugo Guevara, President of the US-Azerbaijani Chamber of Commerce Nargiz Nasrullayeva-Muduroglu, Azerbaijani Deputy Energy Minister Elnur Sultanov and others, participated in the event.
Notably, Venkataraman will also travel to Turkiye, Armenia and Georgia.
---
Follow us on Twitter @AzerNewsAz